God bless those nice people fixing up the Camino Real downtown. Here's what the El Paso Times reported:
The renovation of the renamed Hotel Paso del Norte in Downtown is in full swing, but a representative of the Florida-based company carrying out the project said it still needs county tax incentives to complete the work.

Even though the El Paso County Commissioners Court previously has not granted incentives to the Meyers Group, Alan Losada, the company's chief operation officer, said it plans to go back to the county to request the incentives.

"We have a hole in the budget," he said, adding that the company was expecting to receive incentives from the county.

He added that without county incentives, the company will have to make adjustments to the $70 million renovation project, for which more than $32 million in state and city tax incentives already have been approved.
Here's one of the renders, provided by the Meyers Group, the Times ran with the story: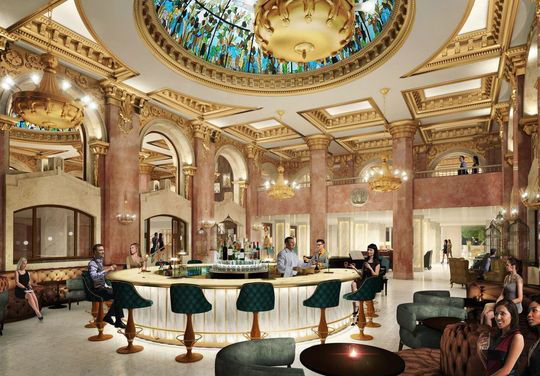 See all those pretty, unescorted, women hanging around the hotel bar?
Have you ever travelled much? Have you stayed in those high-end hotels favored by business travellers spending the company's dime? I have, a little.
If I walked into a hotel bar, and saw a lot of pretty, unescorted, women hanging around, I would assume that they were unescorted because they were in the business of being escorts.
I dunno. I'm not trying to be mean.
But still. What were they thinking?