Photographs by Richard Baron / Stories by John Mulhouse
From 2011 to 2013, Richard Baron traveled throughout New Mexico photographing grave sites adorned by the arrangement of rocks on the ground, referencing no personal, cultural, or religious detail of its occupant yet still enshrining the life and death of an unnamed human being.
John Mulhouse has spent years seeking out the towns and villages of New Mexico that time has forgotten. Through his affinity for the landscape, history, and spirit of these places he has created stories of people and eras that have passed on yet still have much to tell.
The pairing of Baron's images and Mulhouse's words form a haunting portrait of lives we can never know, but may somehow recognize.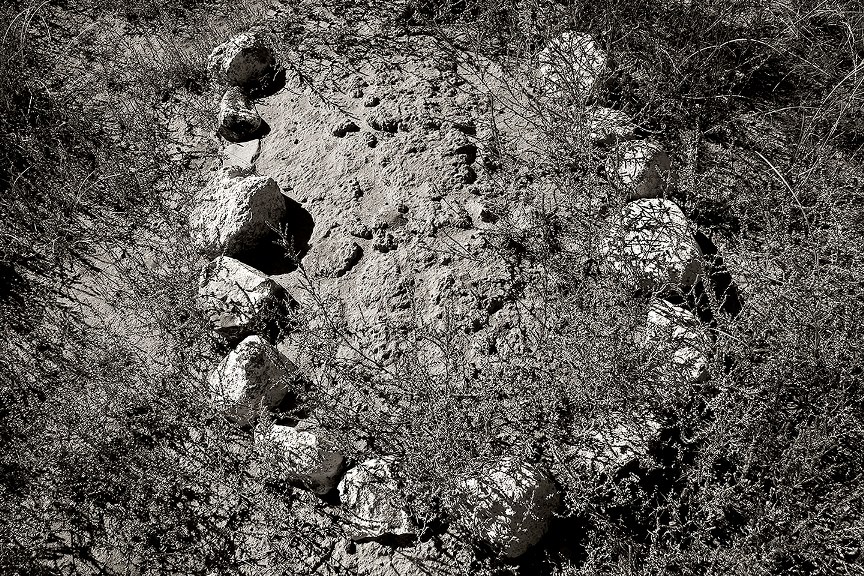 I've been exploring this valley for many years, walking the canyons and mesa tops. It's God's country. Sometimes I spend the dark hours lying out in the open, listening to the coyotes and night birds. Such creatures have given me great comfort. But more than anything I love to climb these spires as the evening sun ignites their varied bands of gray, gold, and copper. As I look across the river from high up here above the desert floor I find it hard not to weep. But you have to be careful. This rock, like a man's life, can crumble from right under your feet and in an instant you'll be falling. Or you could jump and nobody would ever know the difference.