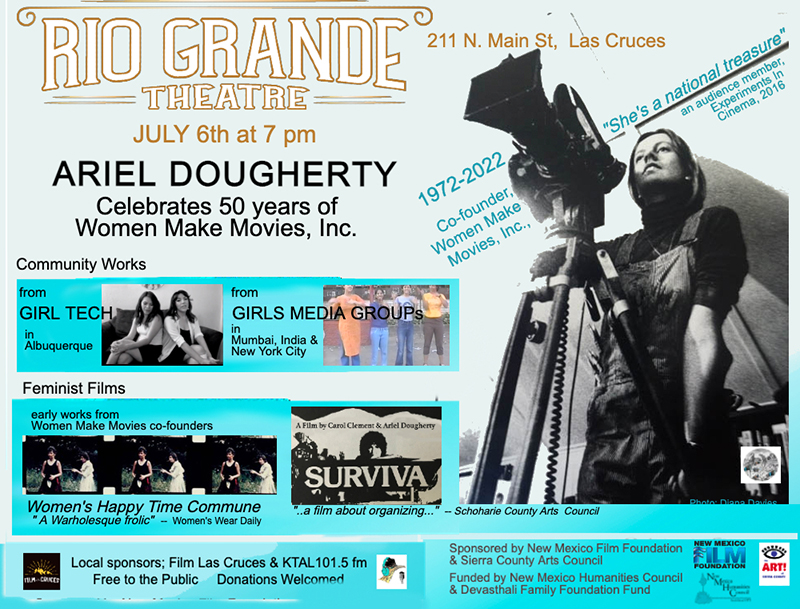 From Ariel Daugherty:
This year I am celebrating Women Make Movies', Inc. 50th anniversary, In 1972 I was one of its two co-founders. While in the first decade we ran a community based film teaching workshop for women and produced films and established distribution (because no one else would distribute 'women's' films and we needed an income stream), by 1980 the organization decided to center solely on distribution.

Foremost I am a film teacher centered in community settings. The first film in the program is AS MUJERES DENTRO DE MI /THE WOMAN INSIDE ME(2013, 4:54m) director, Anonymous from Girl Tech, New Mexico Media Literacy Project . https://www.youtube.com/watch?v=OyOzBrGpTqQ An Albuquerque made film, an imaginative, senstive cinematic poem explores "the complex thoughts and emotions of one young woman as she considers love, sex, gender, sexuality, all against the backdrop of her traditional upbringing." Next comes a series of skits that deal with street harassment. The piece was co-produced in 2002 through two girls' film programs one in New York City, the other Bombay, India.
The two films from us co-founders don't fit into your sphere of interest and what you usuually write about. Bjut you might find that the program that Women Make Movies initiated in the mid 1980s, might be of special interest . I have not been using material from that series — as I am concentrating on works actually produced under the umbrella of Women Make Movies. If you have interest, though, a start would be to see what K M Fallica writes in her unpublished dissertation SUSTAINING FEMINIST FILM CULTURES: AN INSTITUTIONAL HISTORY OF WOMEN MAKE MOVIES (University of Pittsburgh 2013 ). found here. http://d-scholarship.pitt.edu/19553/ There are nine references to "Punto de Vista: Latina".
Wednesday, July 6 at the Rio Grande Theater at 7 pm in downtown Las Cruces.