Today the El Paso City Council is voting to issue another $96 million in Certificates of Obligation.
Certificates of Obligation debt is debt that you, the voters and the taxpayers, weren't consulted on.
El Paso has more Certificate of Obligation debt than any other city in Texas.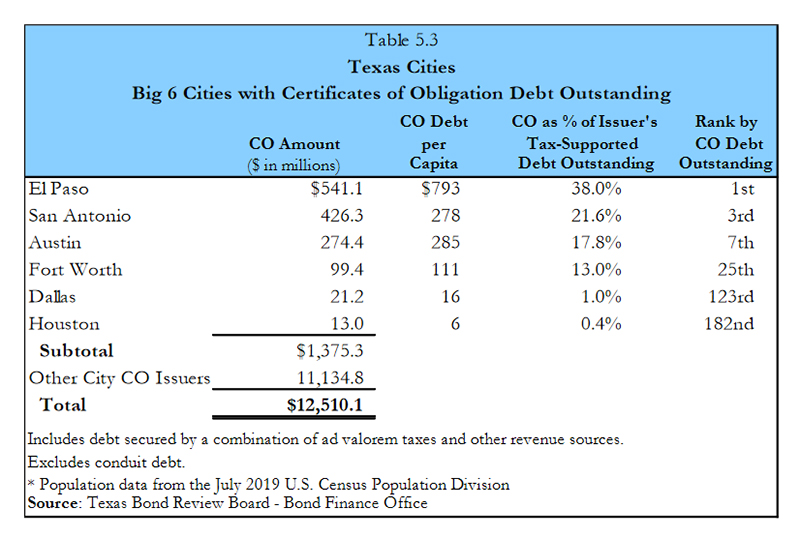 By a lot.
That $541.1 million in CO debt in that chart there is old information. By the end of this fiscal year, you'll be able to add another $200 million to that. At least. More than 40% of the City's debt now comes from Certificates of Obligation, debt that City Council took on without asking you.
All that debt is why El Paso has the highest residential property tax rates in the United States, according to this 50-State Property Tax Comparison Study for Taxes Paid in 2020 from the Lincoln Institute of Land Policy.
The survey reports that Detroit has a higher property tax rate than El Paso, but Detroit also has assessment limits. That means that taxable values significantly increase only when a property changes hands. Otherwise, the assessed value is limited to the rate of inflation, or 5%, whichever is less. So if you've lived in your house for five years, or ten years, or longer, you're probably paying a higher property tax rate than someone in Detroit who has lived in the their house for a comparable period.
No city in Texas has assessment limits, which leads me to believe that it might be illegal in Texas for a city to impose assessment limits.
Looking at last year's data to figure out where we're headed is kind of like driving down the road looking in the rear-view mirror. But judging by City Council's willingness to issue new debt, things aren't getting any better.