by Kent Paterson
This is Part 2 of a three part series. You can read Part 1 here.
Days of Glory at the X
After Wildhare's closed in 2003 musician Chet Woodward planted his flag firmly at the King's X, just a stroll up Mesa Street. For all practical purposes, the X became his home. In the post-La Posta era, he lived for a time in a small camper in back of King X's, subsequently sleeping inside the bar. Chet even received his mail at the 57-year-old Mesa Street establishment- birthday cards and the occasional check from his sisters.
Most importantly, "(Chet) had his seat at the end of the bar," said Austin Jimmy Murphy, a former bandmate of Woodward's. "He was a harmless dude. He was a funny guy-all 90 pounds of him."
Murphy, who once directed the New York State Blues Festival in Sturgis, recalled first meeting Chet when the drummer performed at the festival with Big Jack Johnson during the 1990s.
The old saying that the world is a small place rang true after Murphy moved to El Paso in 2004, walked into the X one day and, of all people in the world, bumped into Chet.
The two blues players formed an El Paso band, Austin Jimmy Murphy and Ragged but Right, which lasted from 2006 to 2009, according to Murphy.
"He was one of my favorite drummers in town," said Murphy. "Chet was a blues drummer, and Chet had that beautiful blues beat."
Chet's drumming often laid down the back beat of King's X during the Wednesday night blues jams, and he jammed with countless borderland musicians.
When he wasn't pounding the drum set, Chet partook in the bar's famous patio cookouts, often pitched in as bar back and assisted with other chores in between his drinks, of which there were plenty. He was frequently in and out of the joint from early morning to last call, carrying on with his bar mates, few of whom could rival his stamina and, apparently, his liver.
On some evenings Chet was the life of the X, while on others he was the solitary soul brooding above it all, the Eyes of the World absorbing it all in, as the Grateful Dead song says. At times he could be loud, brash and obstinate.
Normally easy going, Chet would get mighty testy when songs that didn't fit his musical tastes blared from King X's jukebox, prompting him to let out a few moans, bounce out of his seat and punch in the preferred tunes of rock, rhythm and blues or soul. Whenever possible, Chet loaded up the juke box and kept the soundtrack grooving to his great musical vibe. Chet the irrepressible DJ.
The King of Mesa Street displayed remarkable similarities with his grandfather, Howard Smith, whom big sis Donna termed an "irascible man." A Philadelphia butcher by trade, Smith separated from his wife but dutifully supported her in an era when legal divorce was still taboo in many quarters. Retired at 65, Smith helped the woman owner of a neighborhood watering hole, Cleary's Tap Room, tidy up in the mornings before settling in for a day of drinks with a friend or two.
In addition to their love of fermented beverages, Chet and his grandfather shared personality traits. "Neither one could be told: That's not a good idea," Donna declared.
A young woman friend perhaps captured Chet's personality when she described him as "cantankerous" but not mean-spirited.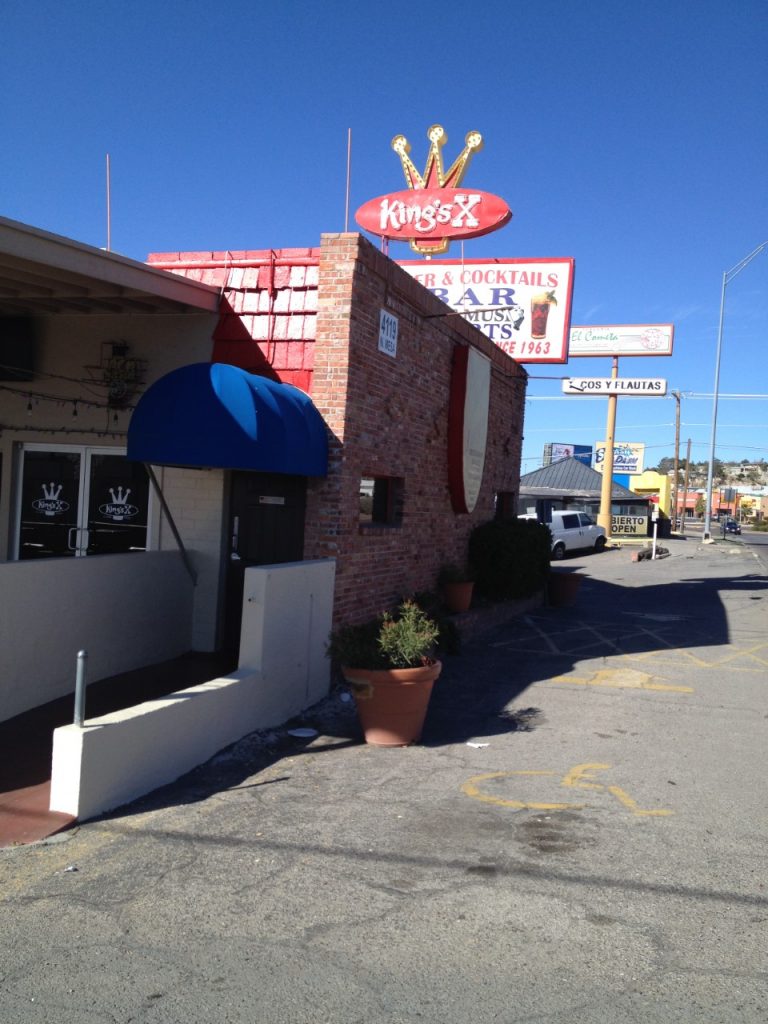 Before, during and after his King's X years, Chet made the rounds up and down Mesa Street's bars and live music venues. He frequented Bombardier's, dropped in at the Tequila Garage bar and its line of descendants, and worked the door at one of the numerous noisy clubs that have suddenly opened and closed at the Mesa Inn.
For a time, the King even had a regular Sunday morning with friends at Lloyd's Pub in the Thunderbird area of North Mesa. Like any good regal adventurer, he reconnoitered territories outside the Mesa Street Kingdom proper, reportedly making appearances over in the Country Club area and downtown.
Years later Chet's intimates scoffed at the notion of their loved one weathering the social distancing, face masking and bar restrictions of the COVID-19 pandemic.
"He didn't like rules," stressed Donna. "Chet was a people person. He didn't like being alone."
The King of Mesa Street seemingly knew everyone: musicians, lawyers, blue collar Joes, strippers, students, saints, sinners and sycophants. People above the law and under the boot of it.
I don't remember exactly when I first met Chet. Our first encounter was about 20 years ago, more or less. It's hard to say precisely because Chet was a fixture of Mesa Street. As one young woman astutely observed at his memorial, the dude was simply "timeless."
Chet and I talked about everything and nothing. As a kid Chet played shortstop. I was a Little League pitcher until my habit of beaning bigger batters who taunted me resulted in an exile to the outfield.
"Hah. Take that, you big snot!"
Chet appreciated stories like that. As adults we had a friendly baseball rivalry going over his Philadelphia Phillies versus my San Francisco Giants.
Chet was among the legions chuqueños who quit visiting sister city Juarez, especially after the violence intensified there. Ironically, when I would inform him of my continued journalistic trips across the river, he'd give me to a stern glare with his big and buggy eyes and utter simple, scolding words: "You're crazy."
Chet Gets a New Home and a Fresh Royal Throne
Chet eventually clashed with King X's management, lost the power struggle and was dethroned. It was an awkward affair, a family crisis, sealed by a sign posted on Chet's old bar stool decreeing that he wasn't allowed in his old lair anymore.
Chet would sometimes "bite the hand that fed him," sighed Donna.
Undeterred by the setback, he tested out other joints like Mark's Cantina, a Mesa Street strip mall joint just up the hill from UTEP. Frank Ricci Jr. remembered Chet first walking through the door of the RCBG-Cincinnati within weeks of its November 2015 opening. And it didn't take too long for the intriguing new customer to become a regular. "He was looking for a new home, I guess," mused Ricci.
Ricci recalled his first impressions of the new boy on the block. "He definitely is a character. He had some aura. You knew there was a story behind him and you wanted to dig into it," he said. "We became friends almost immediately…there was more to the story when you dug deeper. He had a lot of color. There was something behind those clothes and hats."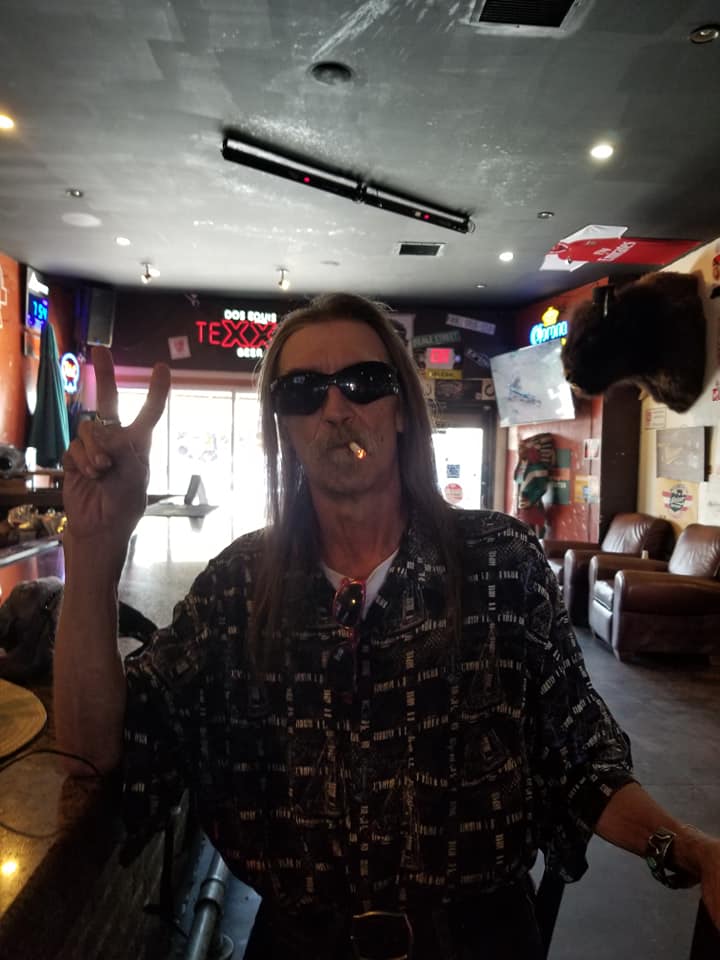 At the RCGB Chet was back in the saddle. He played the juke box "quite a bit," belted out "obscure 60s' songs" on karaoke nights and even drummed a tad with live bands. True to form, he acquired a new seat- smack dab in the middle of the bar.
Chet is legendary for the time he strolled into the RCGB and found a young intruder in an outrageous gown sitting in his throne. Friends attending Chet's memorial were delighted to find an altar on the bar set above the sacred spot and accompanied by a photo of Chet blurting out his now famous command: "Get this Fucking Kid with the Vikings Jersey the fuck out of my chair!"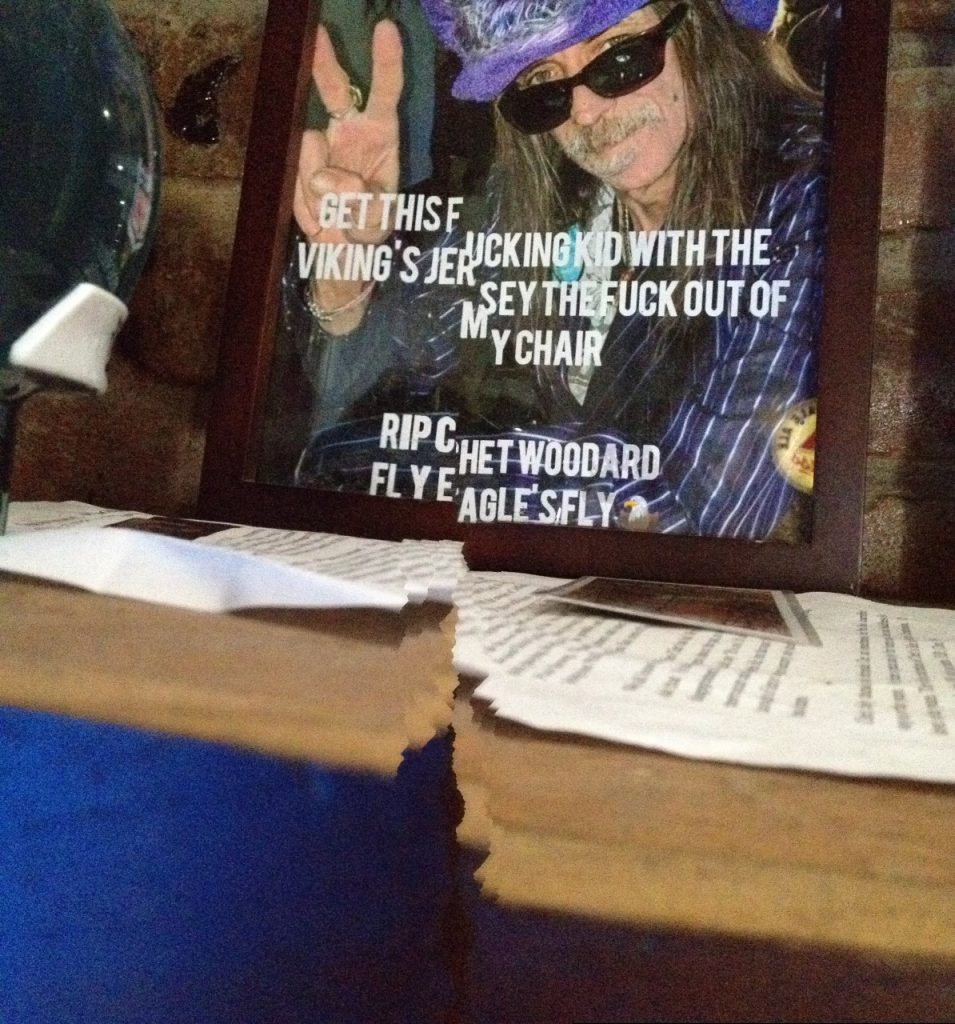 For a time Chet lived with an older, mobility impaired man in return for doing chores and running errands. When the man moved away, Chet was homeless again-sort of.
The old fellow left his caregiver a car, a used ride that Chet enlisted for both sleeping and transportation- even though after all his years in El Paso he lacked a Texas driver's license, a vehicle license plate and insurance. Having a new home entailed new responsibilities and headaches. "The car was always breaking down and (Chet) would call us: 'I need a battery'," recollected Donna.
According to Ricci and Donna, the sputtering home on wheels suffered an unceremonious demise when a city council representative contacted police about an illegally parked pack rat's jalopy stuffed to the hilt.
According to Ricci, Chet simply shrugged it all off when the tow truck hauled his "mobile home" away, exclaiming, "Well, that's the way it goes."
"That was a sad way to live but Chet rolled with the punches," commented Donna.
Despite his trying circumstances, Chet religiously carted around all his "outlandish hats and coats" and other items he regarded as indispensable. Above all, Chet guarded a prize possession: a pair of meticulously sewn hippie "patch pants" which he had owned since he was a teenager and once were displayed at an El Paso Museum of History exhibit on rock n' roll.
"Word from Chet was that the Smithsonian Institute offered to buy those pants from him at one time but he refused," said Austin Jimmy Murphy. "He patched the pants himself and continued to do so over the years. What I remember about them was that they weighed a ton."
The inheritor of Chet's trademark duds, Ricci draped them over his bar to mark the one year anniversary of Chet's murder.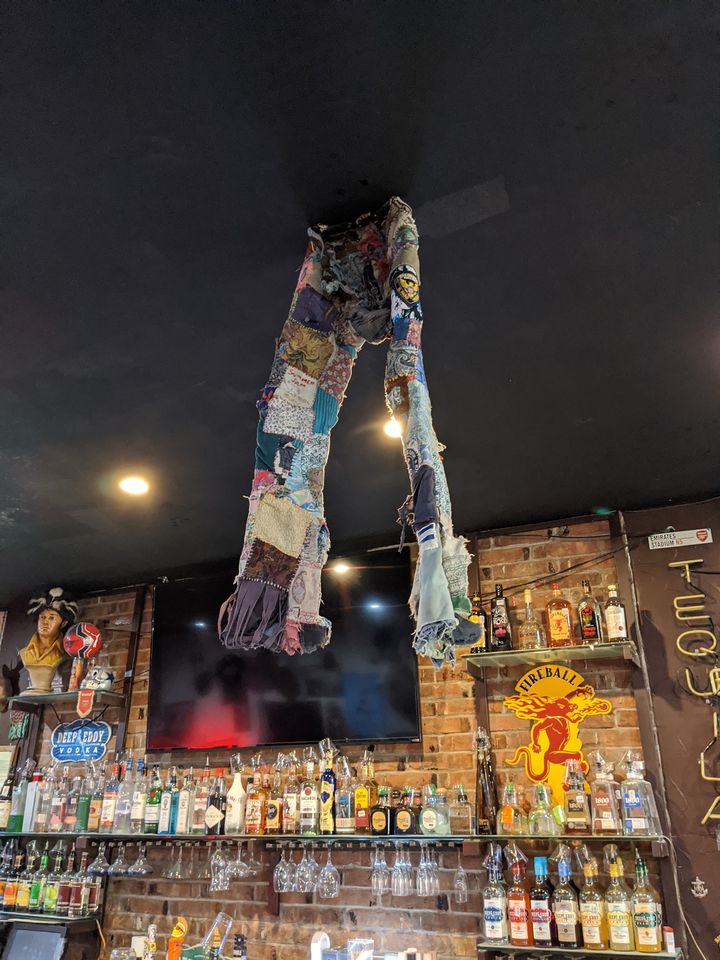 In his later years The King of Mesa Street took to Facebook, using the not-so-secret pseudonym of "Chuck Woodard." Speaking from an expert's perch, he weighed in on a 2017 Facebook debate over the origin of the Orange Sunshine brand of LSD that was popular in the early 1970s.
"On this Manson thing, Orange Sunshine Aka Orange Barrel was NOT a CIA Acid but made by The Brotherhood in San Francisco and Philly," Chet maintained. "Wrong. I was there in Philly and did a bunch."
Chet dabbled in Facebook stardom. He attracted fans like Ricci's otherwise straight-laced professional friends who were intrigued by Chet's postings on spending nights in an elevator.
Curious, Ricci pressed the drummer: "What hotel is it?
The classic Chetesque answer: "No, it's a parking garage."
Perhaps blessed with an inverse "luck of the Irish," Chet made new friends who stumbled across the King sleeping in the parking garage; one generous soul bestowed on him a bottle of stiff spirits.
"I had friends in Utah who wanted to meet him, based on his Facebook page," marveled Ricci.
For good measure, Chet's Facebook contained a nugget of philosophical wisdom: "May all that has been reduced to noise in you, become music again."
Sister Margo viewed Chet as the proverbial legend in his own time, an El Paso icon who "flew under the radar."
For Chet's 60th birthday in 2016, Margo and Donna flew their little brother back to his old haunts along Delaware River.
In Donna's recollections, the border bluesman had a grand old time seeing old friends who were likewise "thrilled" to see him, partying until the cows came home, and spending two weeks in a comfy hotel his sisters rented.
Bopping over to Philly, he played drums at the legendary Warmdaddy's blues club where he had jammed years before, livening up the same stage that's hosted greats like Koko Taylor, Bobby Blue Bland, Bobby Rush, the Blind Boys of Alabama, and others. "Chet had an amazing two weeks," summed up Donna.
While in route back El Paso after the party ended, Chet somehow missed a connecting flight and arrived a day late to his call center job. A supervisor stumbled across him kicked back in a cubicle, apparently still recovering from his marathon birthday bash, while customer lines were ringing. She promptly canned him.
Chet called Donna to break the news. As his sister remembered the conversation, Chet told her, "Well, I lost my job. I was sitting there and (the supervisor) came in. My eyes were closed and hat down. She fired me. She has no people skills."
Donna incredulously shot back, "Chet, you work in a call center- you're supposed to ANSWER CALLS."
Chet's employment prospects grew ever more dismal. Ricci advised him he was employable if he moved to a viable center of live music like Austin or Memphis or Nashville. The King, nonetheless, held firm in Marty Robbins' City by the Rio Grande even as the jams were getting scarcer and the crowd thinner in El Chuco's little blues scene amid changing times.
Rescue time loomed. Margo and Donna agreed to pay for an apartment via Ricci, but the arrangement fell through when Chet refused the Mesa Street lodging because he considered it a den of drug addicts and thieves. If anything, the King of Mesa Street knew his own backyard.
Meanwhile, similar to Marty Robbin's cowboy, the aging musician found occasional refuge in neighboring New Mexico, where he stayed with a friend in a trailer not far from the El Paso city line, to sometimes "dry out," in the words of Donna. Chet made other getaways to the Land of Enchantment, crashing with a cousin who also had a trailer. The refuge was located in Deming, a small town about an hour-and-a-half's drive from El Paso in the dusty border badlands of New Mexico.
"(Deming) was one of the last places he stayed in when realized it couldn't make it in El Paso," she said. "He basically had no more options in El Paso, it seemed."
Chet's weathered but workable migratory wings were readying for a new flight to familiar and perhaps easier places, in the direction of Cape May and the Atlantic Ocean. A Grateful Dead song perhaps captures that stage of Chet's life.
"Mississippi Half-Step Uptown Toodleloo"
"…I lost my boots in transit babe
Pile of smoking leather
Nailed a retread to my feet
And prayed for better weather
Half-step
Mississippi Uptown Toodleloo
Hello baby, I'm gone, goodbye…
What's the point in calling shots?
This cue ain't straight in line
Cue ball's made of Styrofoam
And no one's got the time
Half-step
Mississippi Uptown Toodleloo
Hello baby, I'm gone, goodbye
Half a cup of rock and rye
Farewell to you old southern sky
I'm on my way, on my way
Across the Rio Grand-eo
Across the lazy river….."
This is Part 2 of a three part series. You can read Part 1 here. Part 3 is forthcoming.