Yesterday I had cancer. I found it the night before. An angry little red bump on my back, on my left rear quarter panel where I could never see it. But I felt the bump, and saw it in a mirror when I looked for it.
It was cancer. Bob had one on his nose. I told him it was cancer, because I'd just looked cancer up on the internet, and I'd seen pictures on Google image search. He went to the dermatologist, and the doctor had confirmed my diagnosis and cut it off.
I saved his life, then, but that was before he decided to leave Las Vegas.
He was stubborn.
So I knew that angry red bump on my back was cancer.
Cancer's always there. Lurking. Sometimes it comes to visit your friends. Sometimes your friends beat it, and sometimes it takes your friends away. But it's always there, somewhere on the periphery. Waiting. Lurking.
Because what causes cancer? Everything. Some toxic sludge you played in as a child. Fried meat. Sunshine.
If you get cancer, you know you did something to deserve it, even if you don't know what it is you did, because we've all gone outside without sunscreen. We've all had bacon.
I went to the doctor. I haven't been to the doctor, in what? Forty years? I called doctors in sometime, for injuries. Orthopedic stuff. I'd have my doctor friends come by the house, or an office, if it was one of those periods in my life when I was working in an office. But I never went to a doctor for a cold, or the flu, or one of the other modern maladies.
People that go to doctors die. Hospitals are full of dying people. Mostly you get better whether or not you go to a doctor. Or you die. Either way.
But now I had cancer. An angry little red bump on my back that was skin cancer, that a doctor could cut off, and let me live to see my sons graduate. Grade school, at least. Maybe high school. Even college, if I'm lucky.
Our deductible is seven or thirteen thousand, or some other number that a little bout of cancer wouldn't reach, if it was treatable, and if it wasn't treatable, pouring seven or thirteen thousand dollars into it would be a waste of money. And time. Whatever time I had left.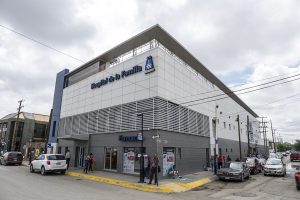 I walked over the bridge and into the Hospital de la Familia. FEMAP. The cashiers sent me to the information desk when I asked about a membership. The form they gave me on the brown pressed wood clipboard had spaces for five people, so I gave my information and the data for Claire, and Buck, and Pootzle, and Rosco. Floyd has his own doctors for this his first year.
I shuffled a couple of times between the information desk and the cashiers, and eventually paid for a membership and a consultation, and the cashier told me to wait to be called into the consultation room, number seven.
I found the door to the consultorio, and sat on one of the aluminum chairs, waiting for my name to be called.
And I waited.
The announcer's voice came out through a ceiling mounted loud speaker. His voice sounded like his other job was dubbing movie voice overs. It was sonorous. Mellifluous. He'd call the names, the paternal last name, and the maternal last name, in the Mexican style, and then a given name, and then announce the consultorio room.
"Sanchez Jimenez, Socorro, a consultorio catorce. Sanchez Jimenez, Socorro a consultorio catorce."
I thought maybe the voice was prerecorded, or computer generated. But it was too perfect. Somewhere, in that hospital, a real person with a voice like honey was reading those announcements into a microphone.
Two hours passed. I started to doze in that aluminum chair. The girls next to me were working their social media. An old man came in with a catheter, and covered it with his jacket. Pregnant women waited for sonograms.
If it hadn't been cancer I might have left.
I was afraid that the announcer had skipped me, intimidated by my name, half silent letters, but at last he spit out some mangled version and I went through the door of consultorio siete.
The doctor in the white lab coat behind the institutional metal desk was a woman, or maybe a girl. She was petite, fine boned, with braces on her teeth.
I told her I wanted an exam and I had cancer.
"How do you know you have cancer?" she asked.
"I looked it up on Google."
Then I took off my shirt and showed her my little angry red bump.
"That's not cancer," she said. "Hematoma."
She told me to bring in a day's first urine for my physical and wrote me a slip for an appointment with a dermatologist, and sent me back to the cashier to set the date.