KTSM tells us that the City is inviting the public to attend, either virtually or in person, the meetings of the City's Redistricting Committee.
Starting Wednesday, November 3, the City of El Paso's Districting Commission will host hybrid – in-person and virtual – biweekly meetings to discuss proposed amendments to the City Council's district boundaries.

"The process of redrawing district boundaries is conducted every ten years in alignment with the U.S. Census to guarantee equal voter representation…on October 26, 2021, the El Paso City Council adopted a redistricting plan and resolution requiring the City to observe redistricting criteria in the adjustment of representative district boundaries."

City of El Paso
KTSM also released this timeline: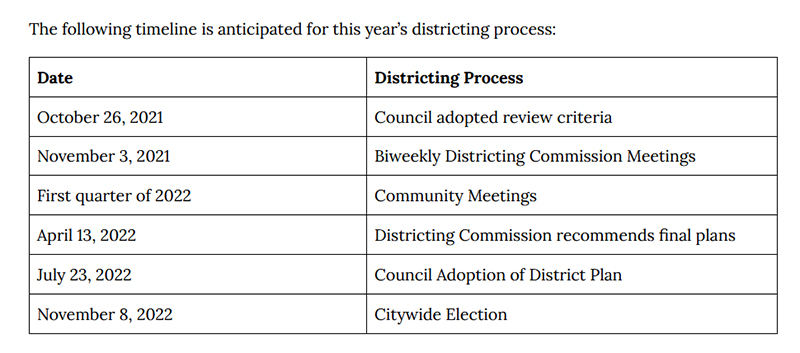 Wow. Three months and ten days between the date that the Districting Commission recommends final plans and the Council Adoption of a District Plan.
Here's what the El Paso Municipal Code has to say about the timeline for redistricting:
On or before September 1 next following the publication of the results of each decennial United States census, each Representative shall nominate one qualified voter from his or her district and the Mayor shall nominate one qualified voter from the City at large. Upon approval by the Council, these nominees shall comprise the Districting Commission. The Commission shall elect its own presiding officer. The nominees chosen shall not serve the City in any other capacity, whether appointive or elective, nor shall they hold any other elective public office. The Commission shall make recommendations to the Council concerning adjustments of the boundaries of the Representative districts. Upon receiving the Commission's recommendations, the Council shall review the population of each district, and as soon as possible, shall change the boundaries thereof as necessary to insure substantial equality in the populations of the districts.
The emphasis is mine.
I know City Council plays fast and loose with the law, like their generous interpretation of "blight" when they create Tax Increment Reinvestment Zones, to deprive the General Fund of increases in property taxes in designated areas.
But how about that liberal interpretation of "as soon as possible"?
Don't you think three months and ten days is a little more than "as soon as possible"?
What are they doing during that interim? Disneyland?
Don't they know that they have a job to do?
Delaying the release of City Representative District boundaries puts challenging candidates at a disadvantage, because, unless they live next door to an incumbent, they won't even know for sure what district they'll be in until four months before the election.
As I noted before, El Paso's City Representative Districts are severely gerrymandered.
I reckon the incumbents need those three months to work out their specious arguments for preserving the status quo.