by Vanessa Johnson
Beto Dominguez Rodriguez passed away on September 16, 2022, at 4 p.m., surrounded by his loved ones, without pain, and as a friend of his wrote, with his heart having tired of all the work he did for just causes.
I first met Beto nearly eight years ago, when I was researching the Dirty War in Mexico, and interviewed some of the participants and state targets who still resided in Ciudad Juarez. Beto stood out in many ways, due to the extraordinary resilience he exhibited, after being jailed and tortured by the Mexican state, and after having lost three brothers in the Dirty War. He was witty, with a sarcastic sense of humor, and a passion and idealism that sparkled even after a lifetime of pain and tragedy. From his wheelchair, which he had been in as long as I had been alive, he embodied the idea of living a limitless life, and I admired his fearlessness, his intellect, and his kindness.
Up until his final moments, Beto was planning a commemoration on Sunday, September 25, in Plaza Benito Juarez to honor those killed during the assault on the fort in Madera, Chihuahua, on September 23, 1965. While he died just over a week before the event was to occur, many came to honor his memory, and to read aloud the names of those killed and buried in a common grave. I crossed just after church with my oldest son, and heard the trio music playing. There were also groups who were there to remind Juarenses that the 43 disappeared students from Ayotzinapa are still missing. Beto referenced these disappearances too. We shouted "¡Presente!" We heard from those who understand that state violence in Mexico persists. My son ate a limón paleta, and we watched the sky turn from rain to sun and back to rain.
DESCANSA EN PAZ, BETO, TE LO MERECES.
***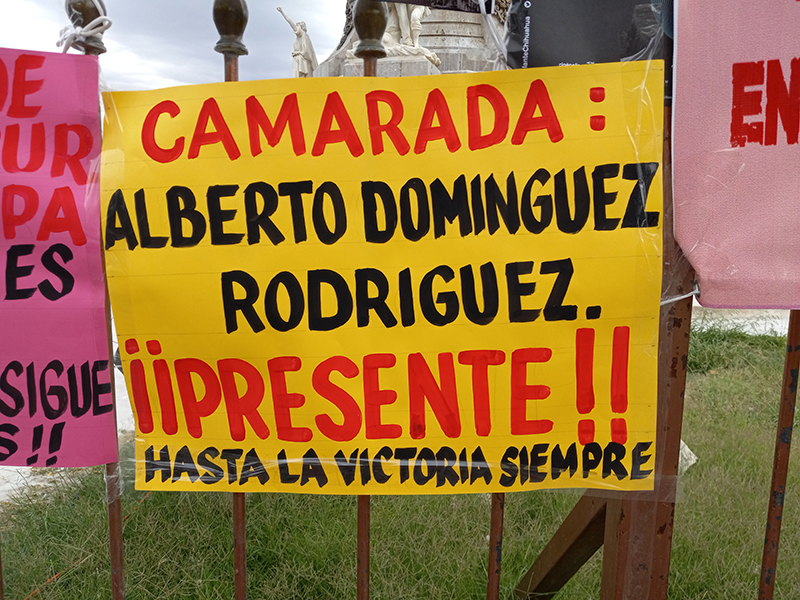 The writing below is an excerpt from my thesis, MEMORY, STATE VIOLENCE, AND REVOLUTION: MEXICO'S DIRTY WAR IN CIUDAD JUÁREZ, which summarizes an oral history of Beto's life.
Alberto "Beto" Domínguez Rodríguez, 63
Alberto Domínguez Rodríguez, known by most as Beto, was born on August 7, 1952 in the San Darío rancho of Tamazula, Durango. He was one of seven siblings, one sister and six brothers. In 1953, his father took the family to Ciudad Juárez in order to seek out a better education for his children, since there were no primary or secondary schools in that hilly region of Durango. While Beto and his siblings started out in elementary school, the family gradually fell into more severe poverty, and most of the boys had to drop out to work small jobs such as selling newspapers, in between stints of school. Beto himself dropped out around age seven or eight and spent many long periods working in the streets, selling newspapers and gum, and shining shoes. 1 While he continued studying when he could, he recalls an early maturity. "Así era… de modo que eso de alguna, propicio una madurez más o menos incipiente, desde muy joven, muy niño, aprender a luchar por la vida y a salir adelante."2
In 1965, during Beto's first year of secundaria, poverty again struck the family and so he left to the United States to work the fields with his brother José. As the Bracero program had recently ended, they illegally worked in California and Arizona and crossed frequently back and forth between the fields and Juárez, until the Border Patrol caught them and deported them to Ojinaga. Beto spent three years in this manner before returning to secondary school in 1968.
Beto recalls his father and siblings as always tending towards idealism and possessing leftist sympathies from a young age. "A toda la familia traíamos un poco el gusanito la inquietud, un poco de ideal, un poco proclive a la izquierda, mi papá era adicto a ese tipo de ideas."3 His house always contained a collection of leftist magazines including Política de Marcue Pardiñas, Sucesos, and Siempre. Thus, when the national student movement in 1968 spread to his school and began strikes, Beto and his brothers were naturally galvanized.
The strikes began peacefully, and included several secondary and preparatory schools, as there was not yet a university in Juárez until 1973. Beto and other students participated in coalitions such as the Comité Local de Lucha, then the Consejo Local de Lucha, attempting to raise the consciousness of both residents and workers in Juárez. In the few years between 1968 and 1970, several of his classmates were detained but liberated, and the demonstrations and strikes they held were seen as quasi-legal. Beto doesn't really consider the state response repressive until they arranged a contramitin (counter-meeting) during a visit to Juárez by PRI presidential candidate Luis Echeverría in 1970.
With advance notice of a tour that Echeverría would be conducting in Juárez, several organizations convened to prepare counter-action. The Consejo Local de Lucha included other organizations such as the Alianza Cívico Demócrata Juarense, the Communist Party, Maestros Democráticos, as well as a democratic section of the PAN. The official PRI meeting was to be held on Avenida Juárez and Vicente Guerrero, and the counter-meeting was arranged two blocks away at the Plaza de Armas. There were more than 300 people present, with the mood very cautious. Beto retreated one block away in front of the movie theater facing the plaza, and observed the arrival of several well-known activists, including Dr. Vázquez Muñoz and Raúl Flores Simental. At that point he describes how the police descended upon them like flies. This repressive police action that denied their freedom of expression caused immediate discontent, and there was a spontaneous march that formed, with hundreds of observers heading off to the jail on foot. During the progression, a rumor emerged that in a canal behind the jail there were soldiers waiting to confront the protestors, and so they decided to go back to where the official meeting was being held. As an hour and a half had already passed, the príistas were already gone, and someone launched a Molotov cocktail, prompting the arrival of more police and firefighters.
Following this event and the subsequent witnessing of the beatings and kidnappings, Beto and his associates decided to go underground and reorganize themselves. The goal was to spread their voices further, and go farther in means of armed revolution. His brothers were already participating in such a group down in Mexico City, known as the organization Lacandones, and so Beto moved to the capital in 1972 to participate more deeply and to study vocational work at the Politécnico. Around this time the police began detaining small groups of his friends, and he was also picked up in a group of 18 or 20 people around November of 1972. Beto recalls these first detentions as fairly minor; they would be held in a hidden prison for one or two weeks and subjected to what he called "light torture." The goal was to extract some information. Later, he was taken to the notorious Lecumberri prison, to the main jail, where prisoners were separated according to their level of danger. Beto was labeled medium-risk and put in a wing along with common criminals. He recalls a greater level of repression, and while he was not beaten by guards as before, he was tortured through forced labor and repetitive tasks. Prisoners were forced to work performing menial tasks from dawn to evening, and when work was done, they were made to do exercises. They were also put in stress positions such as squats and if they got tired they had cold water thrown on them or were hit on the head.
Beto realized the comparative advantage of his treatment when he saw his brother Miguel in 1973, who was jailed in a different wing and subjected to more brutal forms of torture. He was taken past the wing Miguel was being held in at one point and saw a totally different man, with broken ribs and a gaunt, haggard expression. Beto and his younger brother José were released after one year in the prison, on bail, and after three days reunited with members of the LC23S and went back underground and conducted armed work for them. The next five years saw a gradual decommissioning of this group, and Beto followed into more legal means of action. They first gave up their weapons, then they stopped any clandestine activities and meetings, then they resumed their real identities and stopped using false papers, and finally they formed the Corriente Socialista at a national level. After Beto moved to Monterrey, he became a delegate for the Corriente Socialista. He was also granted amnesty under President López Portillo, along with other ex-guerrillas, once the government determined they were no longer dangerous and had put down their arms. While he spent a great deal of the dirty war in Mexico City, Guerrero, and Monterrey as a guerrilla, he eventually returned to Juárez in 1984.
Beto's three eldest brothers did not survive the Dirty War. Miguel attempted to escape from Lecumberri and did not want to be subjected to any more torture once he was recaptured. He took his life after his recapture on October 8, 1975. Gabriel was killed in a confrontation with the army in the Sierra Tarahumara on November 24, 1974. Plutarco disappeared that same day, and has never been found.4
Beto recognizes that much of this history is forgotten. He believes that in the general population today, that people are the product of disinformation by authorities, but that during the period of 1972-1983 that there was much more realization, even if the motives of the guerrillas were misunderstood. He draws parallels between the 1970s and the economic and political situation in today's Mexico. He believes there continues to be much state repression, and that Mexico's purported democracy is a farce. Referring to the recent disappearance of the 43 students in Guerrero, he sees the necessity of group action to systematically organize and combat state repression.
Beto sees a continuity in the state's use of violence. He views the initial massacres of 1968 and 1971 as the clumsiest, and then the state became better at hiding its tactics of repression. He describes the formation of the Brigada Blanca and explains how even after the disarmament of guerrilla groups, they continued to target peasant groups in Guerrero. He refers to DFS henchman Miguel Nazar Haro in Juárez and his transition to criminality. He believes that many of the techniques that were utilized by the state were taught at the military schools in the U.S., and were similarly deployed in dirty wars throughout Latin America. He believes that peaceful people from the left remain targeted in Mexico.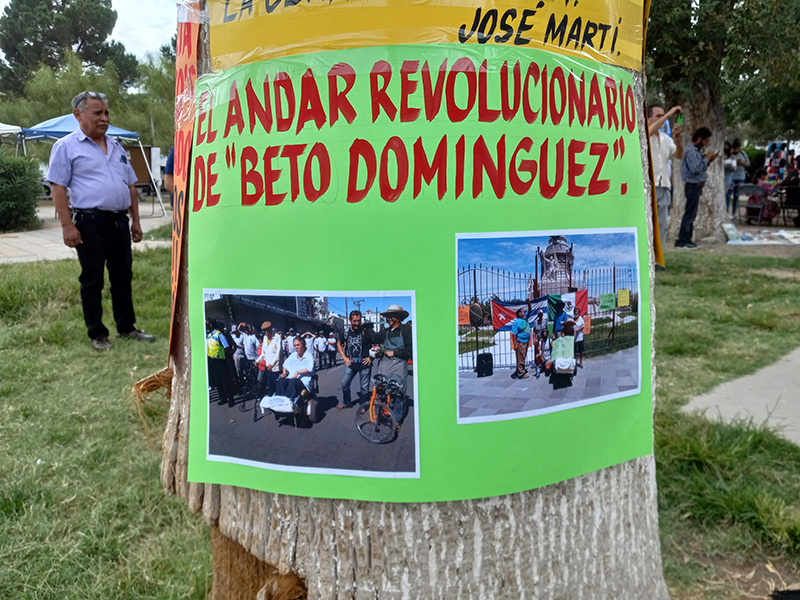 Several themes emerge in Beto's narrative. One is resilience. Beto is a survivor, who apart from his experiences during the dirty war also suffered a workplace accident and has been a paraplegic since 1979. He frames his childhood experiences as preparation for surviving future hardships. In talking about the extreme climate during his fieldwork in the U.S., he explains how that helped to "harden" him. "De alguna manera nos curtió bastante pues para las penalidades de la vida y la capacidad de sobreviviencia natural, lo cual yo deduzco o sea que cuando estuvimos nos egresamos en los años despúes a la guerrilla que hubo situaciones muy difíciles de vivencias peligrosas, de alguna manera, esa capacitación natural que teníamos para la sobrevivencia nos ayudó a salir adelante, a sobrellevar a algunos de los peligros que hubo."5
Another theme is the importance of collective action. He sees this as a personal obligation of a thinking person, and the only way to fight injustice. He himself shifted from believing in armed struggle as the fastest and most appropriate way to a better world, and now participates in only nonviolent struggle. Today he considers that armed struggle ultimately only serves the state as it can more justifiably respond with repression. But he remains optimistic about the possibility for broad solidarity, imagining a time when enough people in Juárez strike and stop the work of the city, block the airports and the roads, believing that then people can dictate their own terms. "Cuando se logre organizar una buena cantidad de gente del pueblo y en de formas de lucha directa, de resisitencia abierta directa…esa va a ser el instrumento principal que nos puede permitir el cambio."6
1 Alberto Domínguez, interview by author, Ciudad Juárez, April, 2015. All material within this section was collected during the oral history.
2 "That was how it was, so that this (life) favored an early maturity, that from very young, you learned to fight for life and come out ahead."
3 All of our family carried a little bit of this gnawing anxiety, a little idealistic, with leftist tendencies, my father was addicted to these types of ideas."
4 Héctor Pedraza Reyes, "Apuntes Sobre El Movimiento Armado Socialista en México 1971-1974." Nóesis. Revista de Ciencias Sociales y Humanidades 17.34 (2008), 121.
5 "In some way it hardened us quite a bit, from the hardships of life and the natural ability to survive, I imagine that when we left in those years, then during the guerrilla phase, there were very difficult and dangerous situations, and in some way, this natural training that we had to survive helped us to come out ahead, to endure some of the dangers that were there."
6 "When you are able to organize a bunch of citizens, and in forms of direct confrontation, direct open resistance, this will be the principal instrument that permits change to happen."