They are coming out of the woodwork (and maybe from under rocks) to weigh in on Tommy Gonzalez' future.
From a guest column by former mayor Dee Margo that appeared in last Sunday's El Paso Times:
I believe given the size of our city budget, the responsibilities required of a city manager with 6,000 employees and his job performance as determined by the City Council review, the salary is appropriate. We as a city benefit from good leadership, but I believe his compensation should have been limited in his contract.
Does Mr. Margo remember that he lost his reelection bid by an almost 3 to 1 margin? I think that City Council should take that into consideration as they weigh his opinions on the operation of city government.
And remember Joe Wardy? From KVIA:
Joe Wardy was El Paso mayor from 2003-2005. During that period, it was a mayor-council form of government, but it would later get passed to create the position of city manager.

Wardy said it was important to create the position of the city manager since the city was growing exponentially.

. . .

Ultimately, Wardy said he does agree with Mayor Leeser's veto. He said it is not an issue of Tommy Gonzalez, but rather the process.

He said he is not critical, he understands the different issues the body faces. "I just know the citizens of EL Paso expect an elite level of professionalism from their elected officials."
"Wardy said it was important to create the position of the city manager since the city was growing exponentially."
Here's the latest on the city's exponential growth, from ElPasoMatters.com: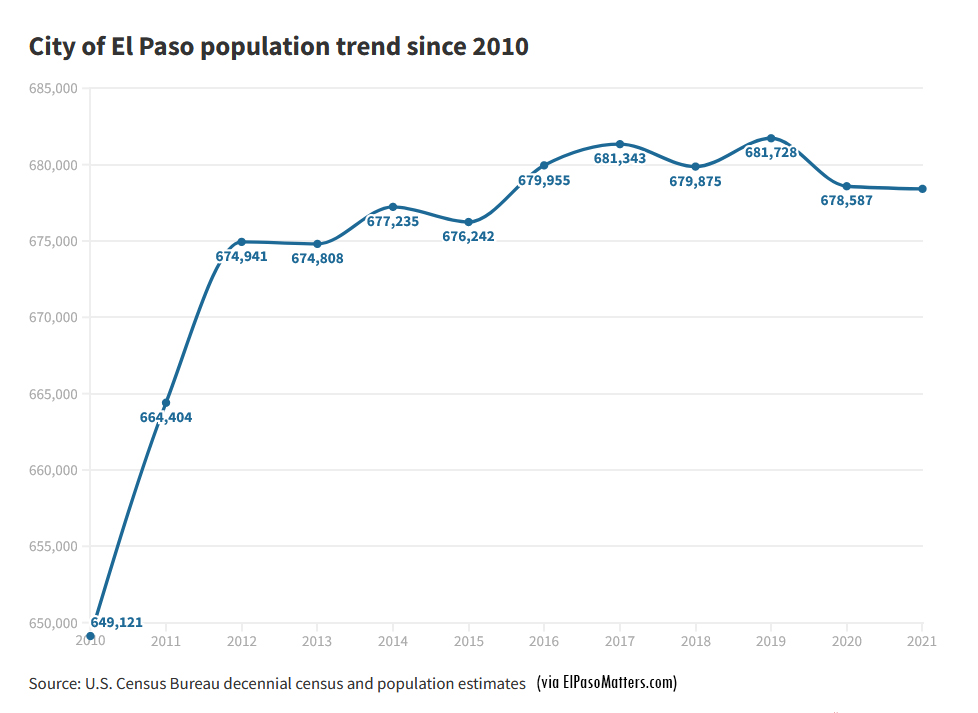 The number of people living in El Paso's city limits declined by almost 200 people between the 2020 census and the middle of 2021, according to new Census Bureau estimates.

El Paso's population was estimated at 678,415 as of July 1, 2021, down slightly from 678,587 in the 2020 census. That continues a trend of sluggish population growth, and periodic declines, in the city since 2012. That was the end of the Army's expansion of Fort Bliss.
Of course, the end of the Army's expansion of Fort Bliss wasn't the only factor that contributed to sluggish population growth and periodic decline. The violence in Juarez had largely abated by the end of 2012, and many juarenses who had sheltered here in El Paso returned to their homes across the river.
And then there were the shenanigans taking place at City Hall.
Here's a November 2012 story from KVIA:
The defacto leader of groups opposing the bonds and baseball stadium, Stephanie Townsend Allala, during Sunday night's ABC-7 xtra program, alleged the city government "is corrupt" and called for the resignation of City Manager Joyce Wilson. Her accusations are based on misinformation and inaccuracies, said City Rep. Steve Ortega on Monday.

. . .

"I have an email from Steve Ortega to Joyce Wilson dated Friday, April 20, 2012. It's Steve telling Joyce he needs significant slush funds in the bonds to buy downtown properties. Now that's not what they're saying in the bonds," she said Sunday. Allala was referring to an email in which Ortega wrote :"I am asking for a significant (amount) set aside in the bond for property acquisition." Ortega said early on, when city leaders were determining which projects to add to the bond, they were considering using bond money to buy blighted properties downtown that property owners have refused to fix. "One of the strategies that was being debated was getting money in the bond election in order to bring those buildings back into active use and to do justice to their place in downtown, our community's history, it's heritage…. the words slush funds were never used and will never be used," Ortega said. The plan was never adopted and is not part of the bond.

Allala also claimed Wilson's communication with MountainStar Sports Group investor Paul Foster was "shameful." "Joyce Wilson (was) giving Paul Foster tips on how to negotiate with the Mayor for the Luther building," she said. In the email, dated June 12, 2012, Wilson wrote to a person who appears to be Foster. The email of the receiver was redacted by the city. Wilson's email begins with "FYI… in event Mayor calls. He wants to follow up on you donating the Plaza to city for new city hall in light of b-ball activity. I told him I didn't know what your intentions were but that we were asking a lot for an outright donation. Anyway, he doesn't agree."

In the email, Wilson proposed an alternative. "One thought might be for us to be a tenant for a portion of building, pay for the improvements directly, amortize them over life of improvements and then at the end we either negotiate a lease, purchase or move."

There is no indication the email was illegal, said city officials on Monday. ABC-7 asked, even if it's not illegal, if it was appropriate for the city manager to offer the city pay rent and improvements, when the Mayor was trying to acquire the building through a donation. "The mayor felt like he could get the plaza donated for free. If you talk to Paul Foster, he'll probably tell you that was not on the table and so the city manager was trying to do the next best thing," said Ortega.

Wilson refused comment for this story. A City Spokeswoman said the city manager is reserving comment until after the criminal complaint investigation against her is complete. Opponents of the proposed baseball stadium filed a complaint, requesting the District Attorney to investigate her for allegedly using public funds for political advertising related to the planned Downtown baseball stadium.
Another factor that might induce people to leave town is our ever-increasing property taxes, and continued disdain for the taxpayers exhibited by City Council.
Remember? This City Council passed over half a billion in Certificates of Obligation (debt issued without voter approval) over the last four years.
Supporters of the City Manager, like former mayor Dee Margo, claim Tommy Gonzalez is worth more than $400,000 a year. That's a lot of money, but I think the real issue is what the citizens and taxpayers of El Paso have gotten for that money.
The streets are crumbling. The libraries are only open for reduced hours. Our public transportation system sucks and it's getting worse. (Did you know that no buses, not even the trolley, run on Sundays? Because, you know, who needs to leave the house on a Sunday?) And many of the City's Rec Centers aren't open at all.
That quality of leadership isn't even worth $40,000 a year, let alone $400,000.
But six of the eight members of your City Council think Mr. Gonzalez should get a five year extension on his contract, a contract that still has two years to run, and guarantees the City Manager nearly a million dollars if he chooses to quit his job and walk away.
This is an election year. District 5 Representative Isabel Salcido, District 6 Representative Claudia Lizette Rodriguez, and District 8 Representative Cissy Lizarraga are up for reelection. They all voted to extend that the City Manager's generous contract.
I wish them every success in their new careers.
City Council's priorities, and the priorities of the City Manager, don't align with the priorities of the citizens. We don't want higher taxes and reduced city services. We want lower taxes and more services. But the current City Council and City Manager think they know what's good for us.
They're wrong.