From what I can tell, people who read City of Dust are pretty much split between those who enjoy the historical content and those who prefer the fiction/prose. I like to mix them up myself, but for the next few posts we'll be firmly in the former category, visiting a few ghost towns around New Mexico. Elizabethtown is just north of Eagle Nest, on the "Loop of Enchantment," not too far from the Colorado border. If you aren't a history buff, you can always just look at the photos. Those are the remains of a '46 Mercury in the photo above, if you're wondering.
Elizabethtown is fairly well-known, as far as ghost towns go, and there is even a museum on-site. However, there isn't much left of the place. Like most ghost towns in New Mexico, Elizabethtown came into existence because of shiny rocks. In 1866, Captain John William Moore helped a wounded Indian get medical attention at Fort Union, near Las Vegas, New Mexico. Later, the Indian returned to Fort Union to trade and ran into Captain Moore whose previous kindness the Indian now repaid with a few decorative stones which Mr. Moore immediately realized bore copper. Moore asked to be taken to the source of the rocks, which turned out to be high on 12, 441 foot Mt. Baldy, just across the Moreno Valley from Wheeler Peak which, at over 13,161 feet, is the highest point in New Mexico. Even better than copper, it turned out that the mountains and valleys were rich with gold. And thus another western gold boom began. That's Mt. Baldy in the distance in the shot below.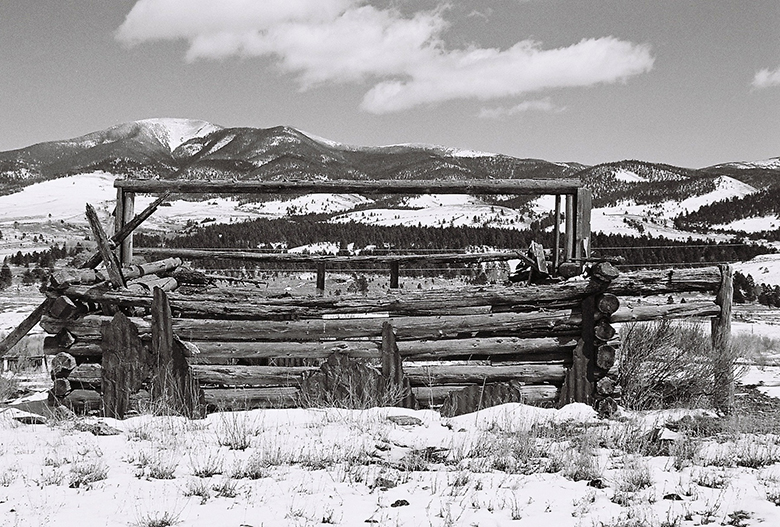 Elizabethtown, named after Captain Moore's young daughter, was incorporated quickly, becoming the first officially incorporated town in New Mexico, and a post office opened before 1866 was out. By the time Elizabethtown celebrated its first birthday, the population had ballooned to 3,000. Or 5,000. Or maybe 7,000. No one really seems to know for sure, but a lot of people showed up in a short period. Just before 1870, E-town, as miner's referred to it, boasted over 100 buildings, including a couple hotels, seven saloons (some 200 feet long), three dance halls, and a drugstore.
You don't have to dig too deep into a town's past to find something unsavory, and Elizabethtown is no exception. In late 1870, the Ute wife of Charles Kennedy, who lived on the road between E-town and Taos, entered a saloon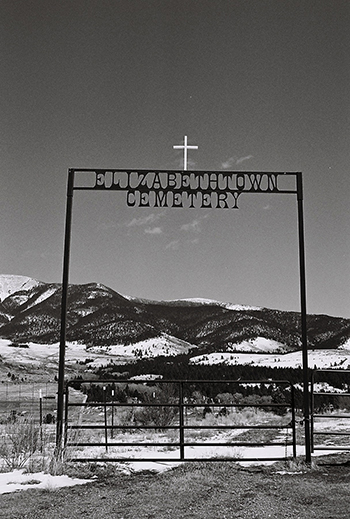 bleeding and crying. She told those gathered around that her husband had been killing travelers. Depending on whom you believe, he may have killed up to fourteen people and might even have killed two of his own children after they got on his nerves. Whatever the case, the last of his kids truly did raise the old man's ire when Kennedy lured a traveler into his home only to have the man ask if there were any Indians in the area. Kennedy's son is said to have replied, "Can't you smell the one papa put under the floor?", a retort which displeased the boy's father so much that he shot the traveler immediately and then bashed his son's head against the fireplace. After that he threw the bodies in the cellar, locked his wife up, and started drinking. Eventually he drank so much that his wife was able to escape up the chimney.
As seems to have happened fairly often in the Wild West, a mob quickly formed and went and found Kennedy drunk at his home, along with some bones, a human skull, and another eye-witness. The mob was led by the notorious (and dangerous) Clay Allison and Kennedy was summarily taken back to Elizabethtown and dragged through the streets with a noose around his neck for a very long time.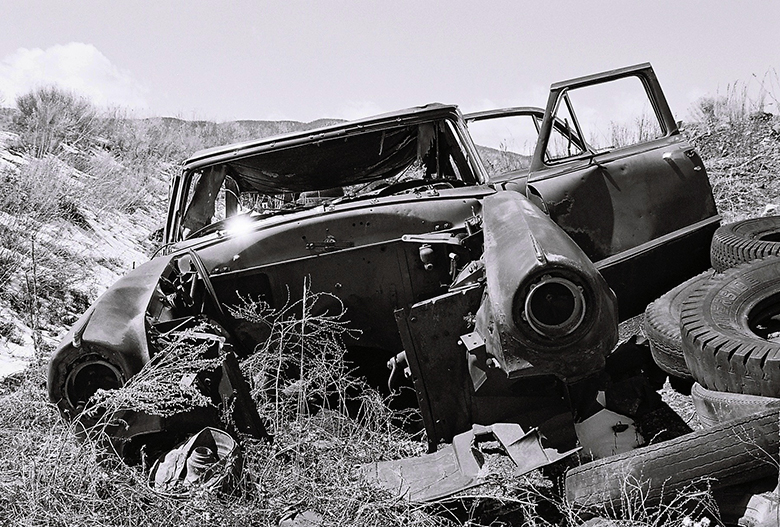 It has been said that Allison removed Kennedy's head and gave it to Henri Lambert, owner of the Lambert Inn (later the St. James Hotel) in Cimarron, now considered one of the most haunted hotels in the U.S. Lambert apparently was told to hang the head outside his establishment as a warning and it eventually mummified on the corral fence before finally disappearing. The St. James Hotel is on the short list of future City of Dust destinations. But as much as I like stories about the St. James Hotel, Lambert was actually living in E-town when Kennedy was killed, not Cimarron, and so, if the story is at all true, the head would've surely been placed outside Lambert's Elizabethtown saloon, not taken to Cimarron.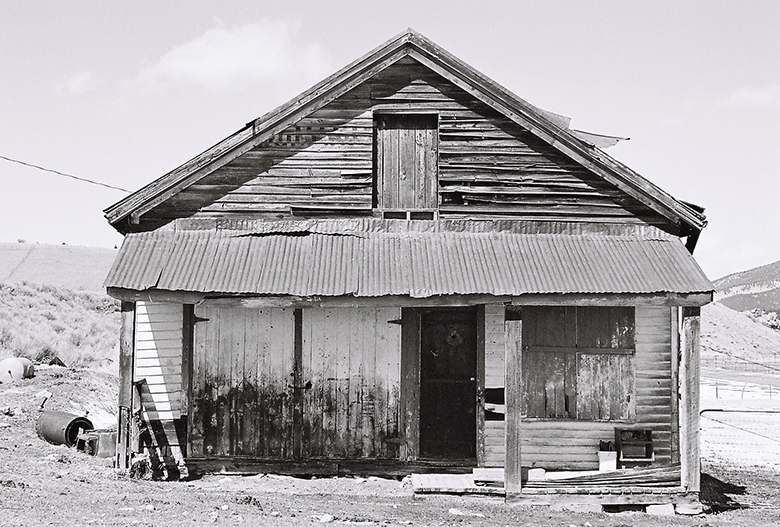 The building in the photo above is considered to be Froelick's Store, which survived a fire and, while slightly modified, is essentially the only original building left standing in E-town. Below is the final resting place of a Froelick.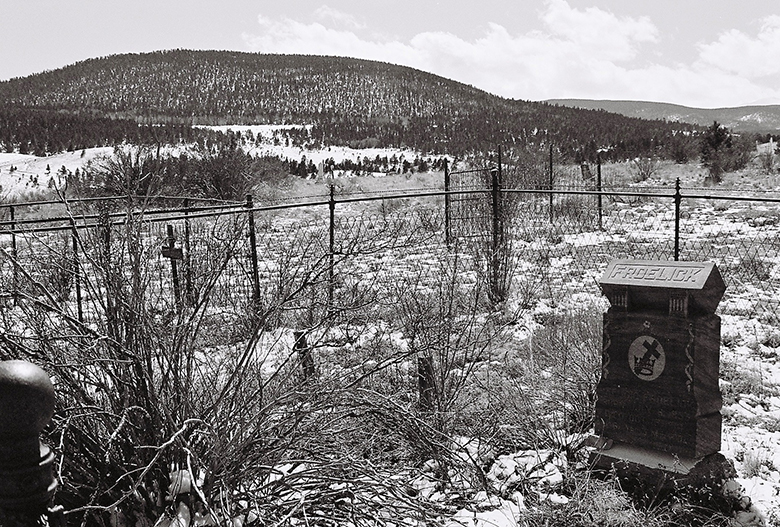 Aside from the Kennedy affair, E-town was a notoriously rough place. When one defendant was asked to be tried in a different city because he figured he couldn't get a fair trial in Elizabethtown, some citizens just took the man from the sheriff themselves and hung him, pinning a note to his coat that read, "So much for change of venue."
By 1875, Elizabethtown was basically abandoned, but the Atchison Topeka and Santa Fe Railroad (and the newfound ability to both transport ore long distances and commence dredging operations) brought the town back to life. E-town became a musical hotspot, with people traveling from all around to hear fiddle playing on a Saturday night. In 1903, Remsberg's store went up in flames and a large part of the town went with it. Dredging ended in 1905 and E-town's massive dredger, named "Eleanor" was left to sink deeper into Moreno Creek with each passing year. It's still in the creek, but entirely buried now. Then it was a long, slow fade until 1917 or so, by which time hardly anyone was left in E-town. The post office hung on until 1931.

As I said, there's not a whole lot to see nowadays. The above photo shows the remains of what was a two-story building which some say was the Mutz Hotel. However, Ofelia Barber, who was married in the building in 1872, stated that it was not the Mutz, but another facility, supposedly with rooms to rent on the first floor and a dance hall on the second. However, judging from other photos, even this ruin is a shadow of what it was 7 or 8 years ago. The Elizabethtown Cemetery, however, seems to still be quite active and not surprisingly. Who wouldn't want their final resting place to be on a hill overlooking the Moreno Valley, with Mt. Baldy to the east and Wheeler Peak to the west? Mrs. Barber left not only her husband there but two daughters as well when she moved from E-town in 1936, one of its last remaining residents.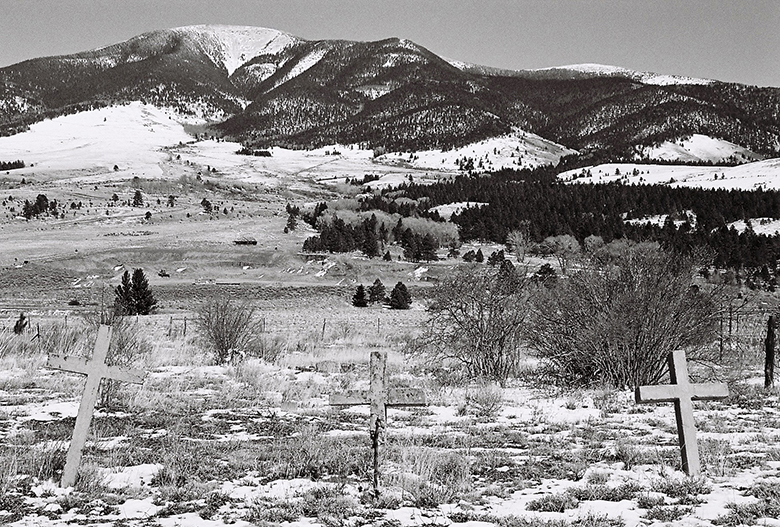 Once again New Mexico's Best Ghost Towns: A Practical Guide by Philip Varney (1981, Northland Press) provided not just information but inspiration, as well. LEGENDS OF AMERICA has a pretty in-depth piece on Elizabethtown and some great historic photos, as well. I tried my best to separate fact from fiction based on the accounts I read, but things get hazy down through the ages. If anyone has anything to add, please do.
This post originally appeared on the City of Dust blog.