Remember 50 years ago, when Trickle Down was all the rage?
That coincided with maybe the fifth time that City Government was trying to pitch us the "We have to flip the ratio of residential to commercial taxpayers," because homeowners pay too large a proportion of the property taxes collected.
So we gave tax breaks to businesses, because, well, you know, they're the job creators.
That was about the same time that the federal government was proposing tax breaks for millionaire businessmen, because the money they spend will trickle down to those poor folk waiting under the table for some scraps to fall.
Now it's fifty years later, and we're still under that table fighting for the scraps.
Those people sitting at the table are doing fine. They're eating Chateaubriand and foie gras, and they're so gluttonous that they don't let many scraps fall.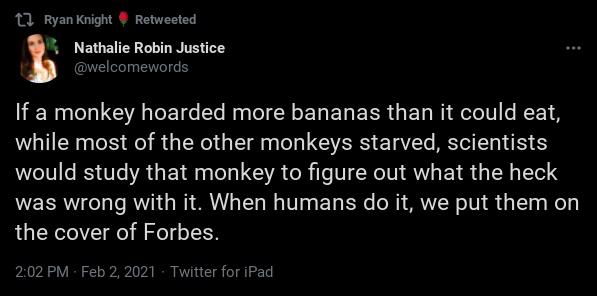 I get it. Money's easy to count. It's easier to check your bank account than it is to spend the day contemplating your happiness.
All those capitalists pretend they're competitive athletes, or that they're at war. They get happy imagining all those Benjamins in body bags.
But it's not working. It doesn't work.
You can't get ahead when you're struggling to stay afloat.
Poor people didn't used to be so poor. A middle class family used to be able to take a summer trip. Middle class parents used to be able to pay for their kids' college education. Own two cars. Let the mom stay home and make cookies.
That's what "middle class" used to mean.
Now middle class means that you've got more than a month's rent in your bank account.
Upper middle class means that your job comes with health insurance.
But El Paso City Government is still preaching trickle down economics.
"All we need is a great downtown," they tell us.
"All we need is one more downtown amenity," the tell us. "A children's museum. An arena. A deck over I-10."
All they ever tell us is that they just need one more thing. Just one more thing to push us over the hump.
The Plaza Theatre.
Just one more thing.
The Union Plaza Entertainment District.
Just one more thing.
The ballpark.
What do all these projects have in common? They all took your tax dollars and stuffed them in someone else's pockets, and you got diddly squat out of the deal.
Fortunately, all those developers, contractors, and real estate speculators, have cheated us out of enough money, and now they're done.
Ha ha. Just kidding.
There are, in the pipeline, big ticket items that I cipher will cost the taxpayers at least another billion dollars.
Billion. With a B.
That arena will cost $500 million.
The deck, what? If you include MountainStar's soccer stadium, that's probably another half a bill.
And Tommy's wife needs new shoes. I hear shoes are expensive.
We are staring into the gaping maw of insurmountable debt. We are at the precipice. City Council, on your behalf, is taking on hundreds of millions of dollars in debt, with only minimal benefit to you.
They're some real sports, huh?
They're that guy that shows up late to the bar, orders drinks for everybody, and then leaves before the tab comes. Except he orders draft beer for the taxpayers, and Moet Chandon for the real estate speculators.
Because you know, the real estate speculators are only interested in the good of the community. That they make millions of dollars, and accumulate properties worth many more millions of dollars, is only a detail.
They're philanthropists, after all. Philanthropists with one hand in the the taxpayers' pockets, and the other hand performing shadow plays for City Council.
Things have to change. We have to rein in that rampant spending. We have to stop believing the lies they tell us.
We have to elect better candidates.