Branding isn't advertising. It's not marketing. A brand is more like the gestalt of a good or service. A brand is all the qualities of a good or service and the way the good or service is perceived. A brand is what a good or service is and how people feel about it.
As long as I've been paying attention, El Paso has never managed its brand. What is El Paso? What does it stand for? What does it mean?
(I'm not looking for a translation, pendejo.)
The current branding campaign from the nice people at Destination El Paso continues this perfect record of not capturing and portraying El Paso's brand.
Here are some of El Paso's billboards, lifted from the VisitElPaso website under the tab tagged "Branding Campaigns."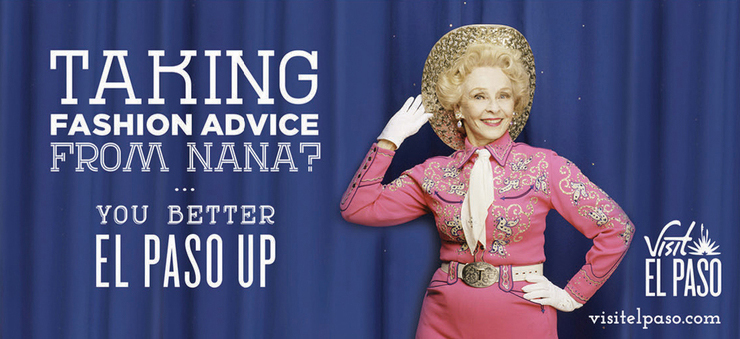 The first takeaway is that these billboards represent an advertising campaign, not a branding campaign. That the people responsible don't know the difference is a pretty good indication that they're probably the wrong people. What is El Paso? Better hotels and better salsa? Better fashion sense? Are we so insecure that we have to justify our worth by comparing our hotels to the hotels in Deming, or our salsa to Jack in the Box, or our fashion sense to Nana's?
If one were to evaluate these billboards from an advertising perspective, these billboards still come up short. You, gentle reader, have the advantage of reading this in the comfort of your cubicle. Imagine that you're whizzing down the interstate at seventy-five miles an hour, in traffic (as I was in Albuquerque when I saw the Festival Gear billboard). How much of that message are you going to grok? Are you going to be able to read the fine print on that Festival Gear billboard, or the Tin Foil billboard, or are you going to be scratching your head, if you even bother to wonder at all?
If El Paso had a well developed and established brand strategy, we wouldn't need billboards. The mileage signs would work for us.
Here's a video which I assume captures the essence of El Paso for the people responsible for it.
Get it? Because we're Mexicans. Imagine if someone saw that video and came to El Paso seeking lucha libre. I guess they could find it. I've been to a couple of lucha libre matches over on Myrtle, behind the Second Hand Store, but I'm not sure they're still happening there, and if they are, they're not part of our Brand Identity, except, perhaps, to the El Paso-loathing folks responsible for the video.
I invite you to go to the VisitElPaso website to fully appreciate what the people who are responsible for portraying El Paso to the world really think about our city.