Dear Friends,
I have attached three photos of the Flor de Luna building, the first from now and the other two from last April. It was erected in 1887-1888 and is one of the oldest buildings in downtown El Paso. The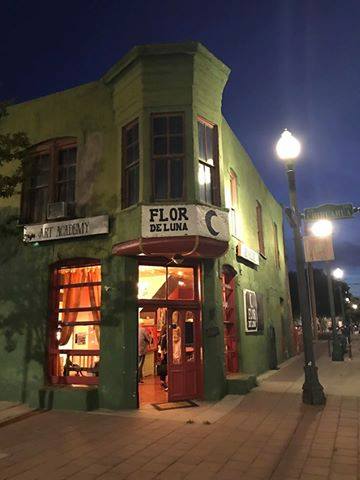 structure was once owned by Juan S. Hart, son of Simeon Hart, who founded Hart's Mill in 1848, the first industrial operation in El Paso. Juan was the founder of the El Paso Daily Times, one of our earliest newspapers. In the 1890s the structure was home to F. J. McFarland, who was the bartender at the Wigwam Saloon, where John Selman, killer of John Wesley Hardin, was himself gunned down in 1896. Most famously, Michael Dolan, who negotiated the surrender of Pancho Villa to the Mexican government in 1920, occupied the building and practiced law there. John O'Keefe, the first editor of The Prospector in 1917 (the newspaper of the future UTEP), grew up there. The building was converted to a grocery store in 1924 and was a place where neighbors met for generations. It is still known by many locals as the Martinez Grocery.
In the 1990s, the City of El Paso applied for a federal grant that paid for new sidewalks, street lights and trees in front of the building and throughout the neighborhood. The City leveraged the Hispanic demographic of Duranguito in order to win the multi-million-dollar grant, and now the same City is "relocating" the residents who made that grant possible in the first place. (See Sen. Rodriguez's op-ed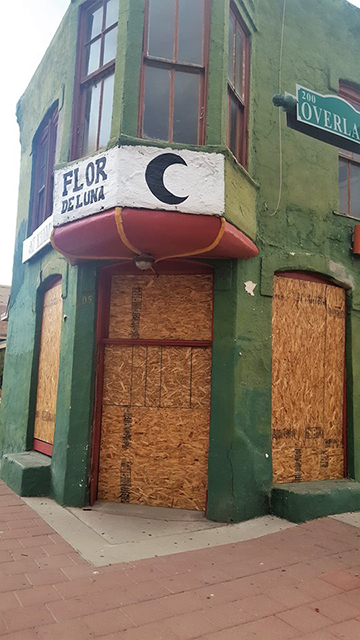 here). Only a few years ago, the City converted the area into an "Arts District", and the building was promptly converted into a thriving art gallery in accordance with the City's vision. It was open to the City's "Art Walk" as recently as two months ago (photo attached).
Now the building is boarded up, its residents evicted, its Victorian-era fixtures removed. In spite of a Temporary Restraining Order issued by an Austin judge, the City will apparently not interfere with the standing demolition permits (issued starting May 24) and allow Alejo Restrepo and Roberto Assael to destroy this and their other Duranguito buildings, depriving El Pasoans of a neighborhood that is replete with history, going all the way back to 1827, when Ponce de Leon founded his first ranch there.
In my humble opinion, the mass demolition of this neighborhood would constitute an act of barbarism and a betrayal of every El Pasoan who appreciates our history, culture and people. Those City leaders who voted for this project and continue to support it in its current form would be remembered for their cruelty and ignorance and their names would become infamous for generations.
Let us hope it is not too late for sanity and reason.
Max
Max Grossman, PhD
El Paso History Alliance