Getting Less Kicks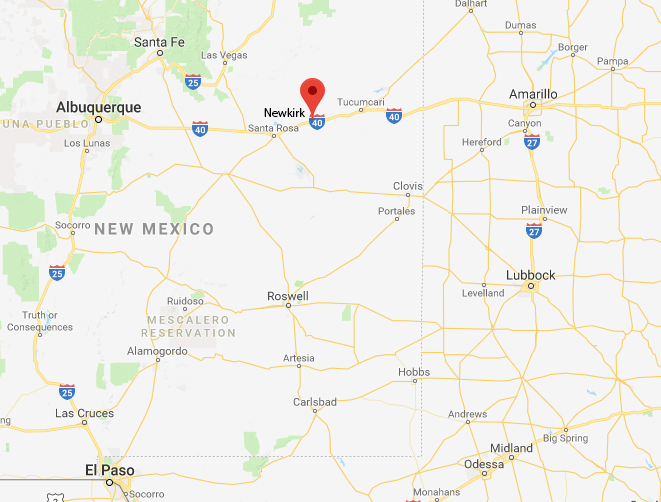 Newkirk, New Mexico is a bit of an enigma. It doesn't show up in ghost town guides–probably because a handful of people still live there–but this old stopover on Route 66 consists mostly of abandoned gas stations and stores from the days when the Mother Road kept a steady flow of paying customers coming through. In fact, the only going concern in Newkirk now, as far as I can tell, is the Phillips 66 station where old Route 66 meets the I-40 off-ramp. Strangely, Newkirk does have a Facebook page with 0 "likes" and "0 people talking about this." Well, I like Newkirk and we're going to talk about it right now. The shot above is actually from the south side of I-40, before you cross over the highway to Newkirk.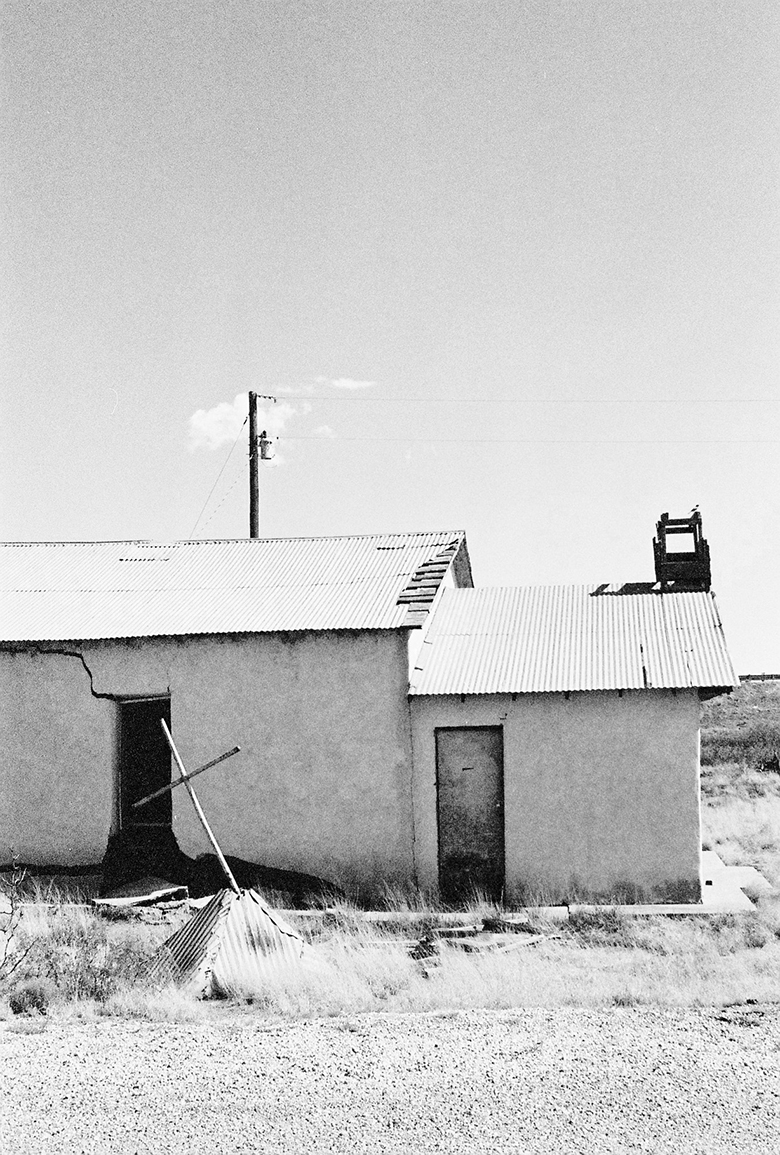 Founded in 1901 with the construction of the nearby railroad, Newkirk was originally known as Conant, the name of a rancher in the area. The name was later changed to Newkirk, in honor of a town in Oklahoma from which a resident hailed. Route 66 began to bring people to Newkirk in the 1930's, when the population reached 240 residents. But, by the 1940's, despite having four gas stations, two restaurants, De Baca's Trading Post, a post office, and some rental cabins for travelers, the population was back down to 115. Here is the church, on the ground is the steeple. Have a look inside–no people.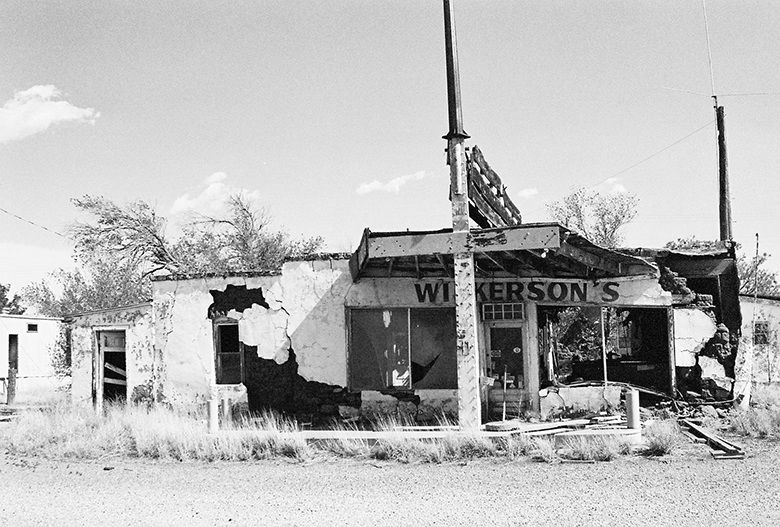 Wilkerson's Store (pictured above) survived for many years after the decimation of Route 66 by Interstate 40 in the 1960's. Of course, interstate bypasses, such as those that cut-off Newkirk and nearby Cuervo, led to the collapse of the economies of many small towns that depended on travelers. The store was open until 1989, when the Wilkerson family finally had to walk away. It was a Gulf Station, though you couldn't tell that now. Collapsing adobe is slowly bringing the building back to earth.
Reportedly not open nearly as long but now holding up better is the old post office/gas station/store shown below. Built in 1910 with large stones, it must've been fairly bustling for decades. Kinda hard to imagine now. It still retains a good bit of its dignity though and is my favorite building in Newkirk.
I've seen references to an old bar and restaurant called Carlo's Place and an ancient Shamrock Gas Station, but either they've fallen down or I missed them. Either way, no photos. There are also the remains of a store which sold, "figural bottles." Apparently these were bottles made into the shapes of…figures.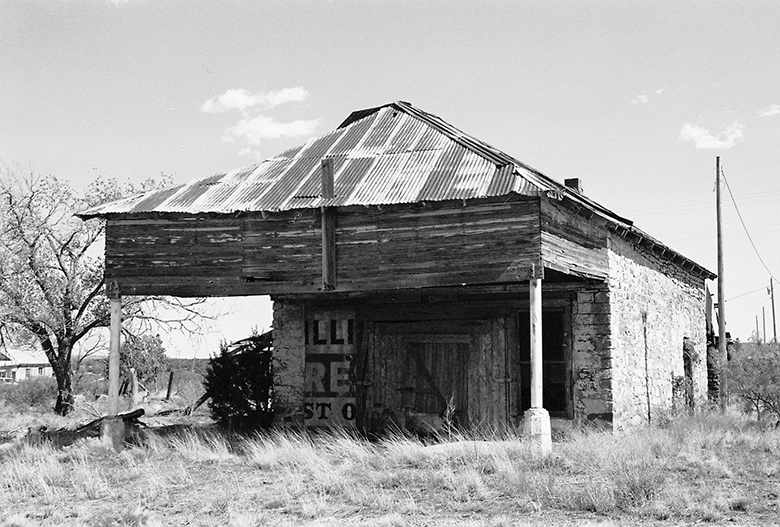 These days Newkirk seems to have largely returned to its ranching roots. But perhaps things aren't as pastoral as they seem. A photographer I know was standing on the side of old Route 66 with her camera earlier this year when a NM state trooper raced up and told her she was "in danger." "People around here shoot first and ask questions later," he said, before speeding away again.
My visit was much less dramatic and included a stop at the Phillips 66 to buy an iced tea, ask a question of the owner, and pet his massive German Shepherd. However, with the NM State Police recently calling I-40 a "River of Crime," with an astounding 1-in-7 vehicles possibly involved in criminal activity, not to mention whatever the hell is going on in Cuervo, perhaps the residents of Newkirk are right to be on edge. If you're planning to visit, best be prudent.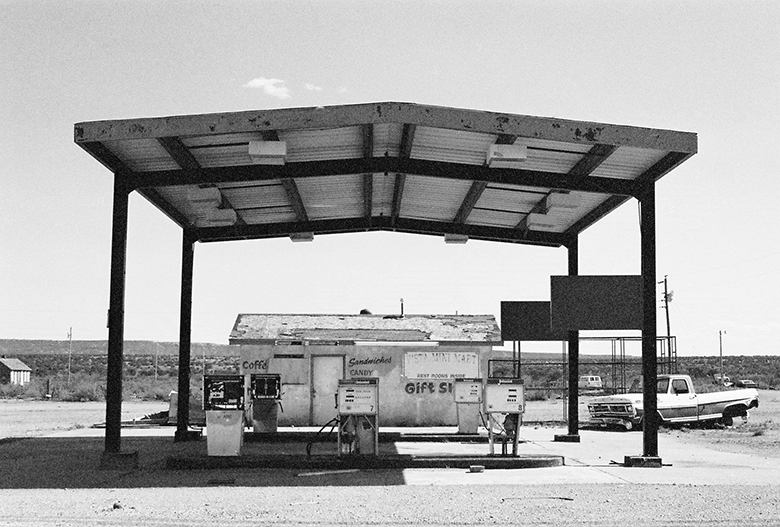 There used to really be only one source for information on Newkirk, The Road Wanderer, a Route 66 aficionado who did a nice piece on Newkirk in the early 2000's. But last month Legends of America added a page on Newkirk, too. Historically-speaking, they both kinda say the same things. So, yeah, I just regurgitated that info here. If you want to "like" Newkirk's Facebook page, go HERE.
John Mulhouse moved to Albuquerque in 2009 after spending the previous decade in Minnesota, Georgia, Tennessee, and California. He loves the desert, realizes it doesn't care too much about him, and thinks that's all as it should be. More of his documentation of the lost, abandoned, beaten, and beautiful can be found at the City of Dust blog and the City of Dust Facebook page.