Did you see this story in the El Paso Times?
A majority of City Council members told the El Paso Times that the rail yard site, which would not have required demolition of any privately-owned buildings, was their preferred choice. The rail yard, behind the City Hall building on Campbell Street Downtown, is about a mile east of Union Plaza.

But the city representatives said they changed their minds when city staff told them that, in exchange for the land, Union Pacific would likely ask the city to close streets in as many as 31 railroad crossings — potentially costing millions of dollars and severely disrupting traffic across the city.

Union Pacific officials said the company did not formally discuss the arena with the city and made no such demand.
Huh? City staff decided on their own that they shouldn't talk to Union Pacific, the owner of the rail yard property, because they might ask them for stuff?
So they didn't even talk to them?
That's gross incompetence, at least. Compounded by deception bordering on lying.
In a recent email response to the Times, City Attorney Sylvia Borunda Firth said the rail yard site was not chosen because initial discussions with Union Pacific indicated that a deal could have required more quiet zones. Under a quiet zone, railroad crossings are closed to traffic, which in turn allow trains to pass through at faster speeds and without having to sound their horns.
But Ms. Borunda Firth, Union Pacific said they didn't "formally discuss the arena with the city." I can't imagine any reason Union Pacific would lie.
Borunda Firth said the rail yard could have also been costly because it would have included expenses associated with closing rail crossings, tearing down two city buildings that were recently renovated, an environmental assessment and the remediation of the land.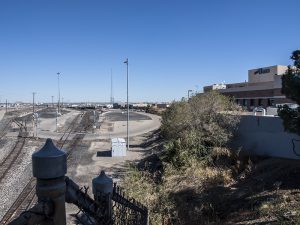 ". . . tearing down two city buildings. . . ." I just walked down there and I couldn't see which two buildings they'd have to tear down, unless they're talking about that metal shed across the street from Cinco Puntos. And there's a lot of rail yard out there. Maybe we could put the arena where those two buildings aren't.
And that's funny, after the city blew up City Hall to build the ballpark.
"Our outside counsel initiated preliminary conversations with Union Pacific and determined that Union Pacific's willingness to convey their property in the rail yard site was conditioned upon the City undertaking additional rail crossing closures," [Ms. Borunda Firth said.] "It was the City Council's position that the proposed closures were not beneficial to the residents of El Paso."
I guess she means she didn't ask them because she thought that they'd say no.
If the City Manager lies to City Council, City Council can fire him. I reckon Ms. Borunda Firth knows where too many bodies are buried to get fired.
I try really hard not to be cynical, but then I pay attention.