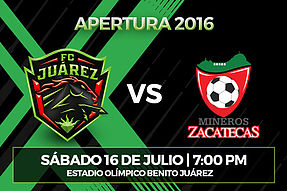 Our local professional fútbol team, FC Bravos from Ciudad Juarez, will be playing their first game of the 2016 season Saturday, July 16, at 7:00 p.m., at the Benito Juarez Olympic Stadium, about a mile from the Paso del Norte Bridge.
Here's how the Mexican (and most other) fútbol leagues work. Each year is split into two seasons. If you win the tournament at the end of each season, you move up into a bigger league. Last year, the Bravos won the tournament at the end of the first season, but lost the tournament at the end of the second season in the finals.
Ticket prices range from an insanely reasonable $65 pesos (less than $4 U.S.) to about $16 U.S. for some of the best seats in the stadium.
If you see me there, you are more than welcome to buy me a beer.