Coconuts!?
Coconuts, that little seven o'clock bar in Five Points, cracked the top ten in the El Paso Inc.'s list of most booze slingingest joints in town.
Coconuts beat Gringo Theory for ninth place.
Have you been to Coconuts? They have probably less than 2,500 square feet of retail floor space, including a patio they carved out of the parking lot. And they're the ninth most popular bar in El Paso, by liquor sales.
Coconuts is the only bar in Five Points on the list, and, except for TopGolf and Malolam, the only bar that's not on the east side.
(I know, Ojos Locos is on Airways, and Airways isn't really on the east side anymore, but when I went to Burges, Burges was on the east side, and if I still went to Burges, we'd probably hit Ojos Locos for lunch. Call me a traditionalist.)
Coconuts has the advantage of opening at 7 a.m., so there's that. I've never been to Coconuts at 7, but I've been there at 7:30.
Seven a.m. bars are supposed to appeal to those third shift workers that get off at, well, 6:45, and when I've been to Coconuts early, the patrons have included lots of hospital workers in their scrubs. I guess they could have been neurosurgeons on their way to work. Neurosurgeons need steady hands.
Here's the latest on on-premise liquor sales from the El Paso Inc.
For the first time in recent memory, a national chain has elbowed its way to the top of the list of alcohol-selling establishments in El Paso.

Topgolf, which opened on the Westside last February, sold more beer, wine and spirits than any other El Paso venue in 2018, according to state data.

. . .

The city of El Paso helped recruit Topgolf to El Paso, offering the company a $5.2-million incentives package, which included fee rebates, along with 75 percent property and sales tax rebates. The company invested $15.7 million in El Paso and hired about 500 people.
That's right. Our city leaders recruited an out-of-town business to compete with our local, homegrown entertainment facilities, and now TopGolf is kicking their asses, taking food from their tables and stealing their children's milk money.
Well, it's no secret that City Government wants El Paso to look like the United States of Generica.
Here's the Inc.'s list of top ten bars (for dollar amount of sales) in El Paso.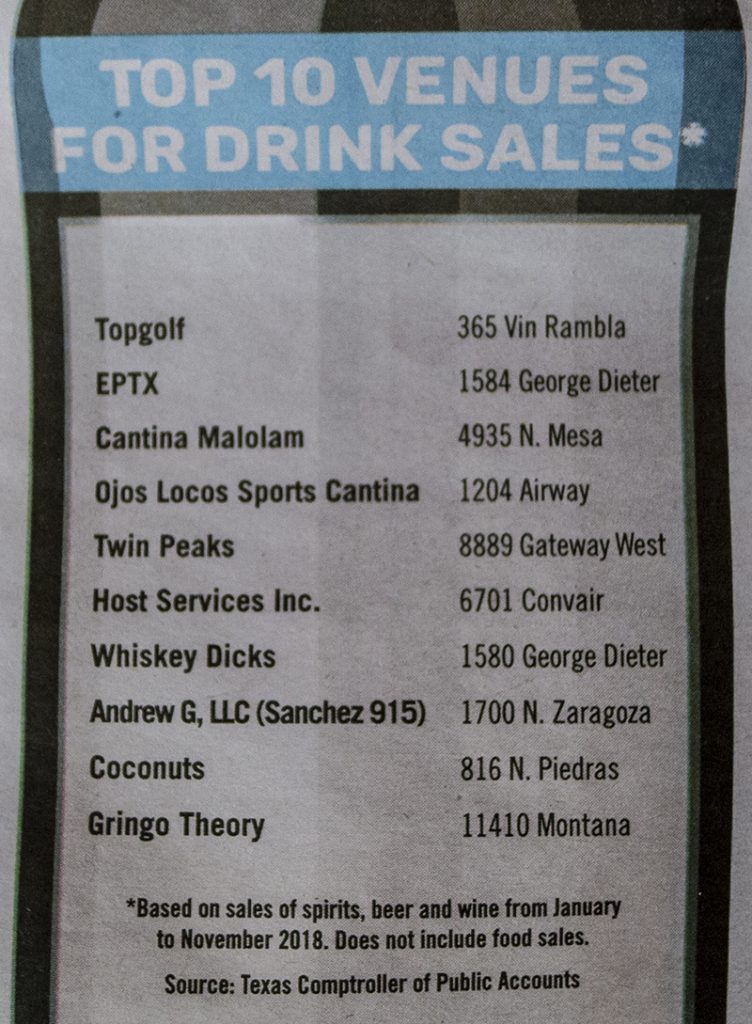 I don't go to bars much anymore. I'm married, and I have a house.
But if I were to go to a bar at 7, or 7:30, or 8, it might be Coconuts.