"It's the most congested part of the freeway," they say.
I took that picture up there this morning (Tuesday, August 9, at about 8:10 am). Traffic was flowing briskly, at like, say 70 miles an hour.
The people who perpetuate the lie the freeway needs to be widened from Copia to Executive Center are counting on the fact that most people in El Paso never wander far from their neighborhoods. When was the last time you went out to Northeast El Paso? Or the west side? Or the east side, or Montana Vista?
El Paso is like a bunch of small towns rubbing up against each other. That's nice. Sometimes you want to go where nobody knows your name.
We all have most of the things we need right in our sprawling neighborhoods. So when people say that Interstate 10 from Copia to Executive Center is the most congested part of the freeway, we tend to believe it.
I was at a panel discussion at UTEP a month ago, and three members of our state legislature said they support widening I-10. State Representatives Claudia Perez Ordaz and Joe Moody, and State Senator Cesar Blanco, all said that widening I-10 was justified because of "the data". Like they were all reading from the same crib sheet.
A Texas A&M Transportation Institute study from 2021 said the bottleneck on I-10 at the Spaghetti Bowl backs up afternoon traffic to downtown, making it the 195th most congested stretch of roadway in Texas. If the real interest is reducing congestion on I-10, TxDOT should address the congestion caused by traffic entering the eastbound freeway from Juarez.
Maybe our state legislators are spending too much time in Austin. Maybe they should go look at I-10, from Copia to Executive, some morning or afternoon during rush hour, and see for themselves, instead of relying on "the data" provided them by TxDOT. Maybe they should look at the data from the TAMU Transportation Institute.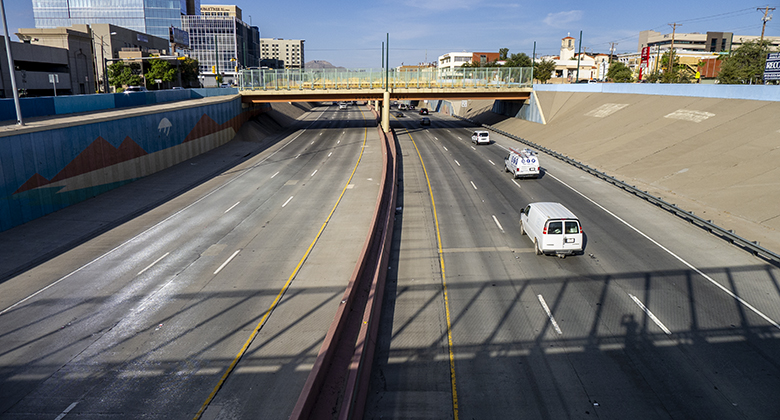 It's hard to believe that more people are driving on I-10 when our population growth has flatlined since 2012. If there is more traffic passing through downtown El Paso because of interstate truck traffic, the Borderland Expressway should help clear that up.
Personally, I believe that widening I-10, and the plan to put a deck park over the freeway, is part of the oligarchs' master plan. I think we don't need it, and we can't afford the associated tax increases.