El Recreo is so exclusive it doesn't even have a sign. I was in there three times before I figured out the name of the place, reading it from a wood engraving on the wall inside the bar.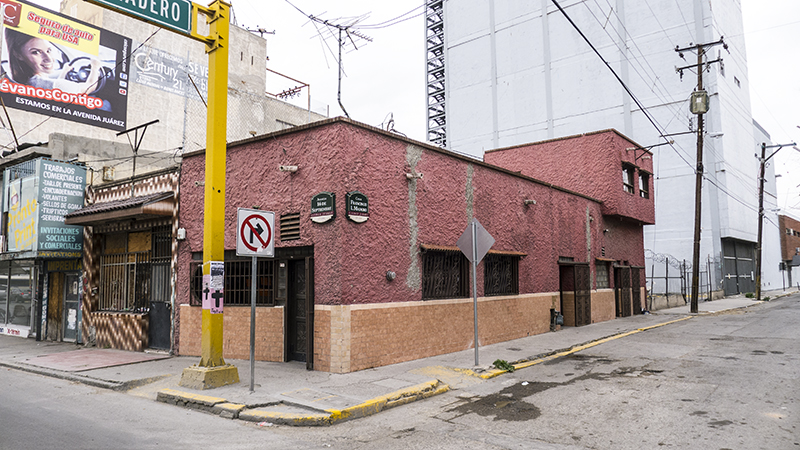 The outside is nondescript. The maroon stucco building could hold anything. A dentist's office, maybe, or a specialized professional services.
Sometimes they light the "Ladies Bar" neon in the window, a holdover from a time when women weren't allowed in bars, or to distinguish it from less respectable establishment. Usually, though, you just have to know about the Recreo to go there.
El Recreo first opened in 1921. The oldest bar in Juarez is the Buen Tiempo, a working class dive on Vicente Guerrero. The Kentucky Club reportedly opened in 1920, but moved to its present location in the 1940's, so whatever claims to longevity it makes get an asterisk.
El Recreo is classic, with sharply dressed male bartenders and a generously stocked back bar. You can get a Bloody Mary at the Recreo, or a Margarita, and probably a Martini and a Manhattan, though I've never tried, and beers from both the Carta Blanca and Modelo camps. They carry a potent Sotol, El Oro de Coyame, which weighs in at 92 proof,and enough other stuff that if you can't find something you like, you're just being perverse.
The Recreo is at the corner of Madero and Dieciseis, catty corner from what used to be the Victoria Theater, just west of the old tourist market. The Recreo is open from 11 a.m. to midnight, Wednesday to Sunday.
Check it out.