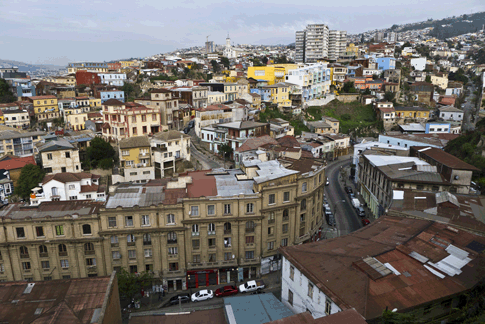 There aren't many places where things are getting better.  I can't think of one, unless it was a hellhole to begin with.
The bankers have cornered the markets, and they're squeezing all the juice out of the rest of us.  So far they've left us the national parks, but I reckon it's just a matter of time till those are studded with eighteen-hole golf courses with mountaintop clubhouses that you and I can't get into, not even as busboys.
They're aren't a lot of decent public spaces left for the common man.  If you squint, the future looks like a Dickens tale.  So if you hear about a decent place, you better get there in a hurry and stake your claim while you can.
I found one.  It's not that much of a secret, but maybe you've never heard of it.  You can still go, and mostly afford it, and maybe carry a little bit of it around in your soul for the rest of your increasingly miserable life.
Valparaiso is on the coast of Chile.  It's about the same latitude south as Los Angeles is north, but it's cooler in Valparaiso because the west coast of Chile is cooled by the Humboldt current flowing up from the Antarctic.
Chile's a pretty nice country.  It has the second highest median national income of any country in Latin America (Uruguay is number one), a stable, nominally democratic government, and immense and pervasive natural beauty.  Chile sits on the Ring of Fire, and Valparaiso is on the edge of the Nazca tectonic plate.  Occasionally the buildings shudder, and less frequently the terrain shakes like a wet dog, but that happens seldom enough that your odds are still pretty good if you're visiting for a week or a month or a year.  And maybe the earthquakes are what's kept the bankers out so far.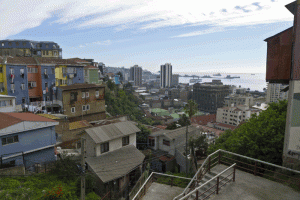 Valparaiso is a deepwater port built on a hill, or, more correctly, a series of hills.  The locals say more than forty, but it's hard to see where one hill starts and another stops, so I'll take their word for it.  Much of Valpo was built in the 1800's, before motorized vehicles were accepted as our saviors or our bane, and the terrain leant itself more to trails than to roads, so, even today, much of Valparaiso is pedestrian only, or crossed with streets that are only wide enough for one lane of traffic.
A developer these days would top the hills and fill the valleys, averaging the interesting landscape to make it easier to put in condos, strip malls, and parking lots.  Ugh.
Meanwhile, the buildings are grandiose.  Until the Panama Canal opened in 1914, Valparaiso was the biggest seaport on the west coast of South America.  The architecture styles range from neo-classical to neo-gothic with influences from every 19th century European superpower prone to extroversion.  The Chilean navy is headquartered in Valparaiso, in a blue wedding cake building on Plaza Sotomayor.  The Treasury, some banks, and a number of government agencies have imposing grey stone buildings that loom over narrow streets, like Gotham City on a more personal scale.  All of that is downtown, in what locals call the plan.  Much of the plan is land reclaimed from the ocean a century ago.
The Portenos (as the people of Valparaiso call themselves) built houses on the hills overlooking the harbor.  Cerro Alegre and Cerro Concepcion got most of the mansions, and the hoi polloi spread out on the rest.  Space is at a premium, so most of houses don't have yards.  It's what urban planners call high density mixed use, and it's what happens when you don't have urban planners involved, and there aren't any cars.
Valparaiso is firmly anchored in the past, and the past is a good place to be from.
Valparaiso has fifty-year-old electric rubber-tired trolleys that troll the streets on a fixed route.  Chileans tend to wear classic styles that haven't changed since the 1950's, except they've given up fedoras, for the most part.  It's easy to feel that you've stepped through the mirror, you're trapped in a tropical snow globe.  It's like Disneyland's Main Street, USA, without the USA.  But they serve liquor.
Valparaiso has at least five classic bars that date back fifty years, or more.  Any city in the world would be lucky to have just one.  Most cities in the U.S. don't have any.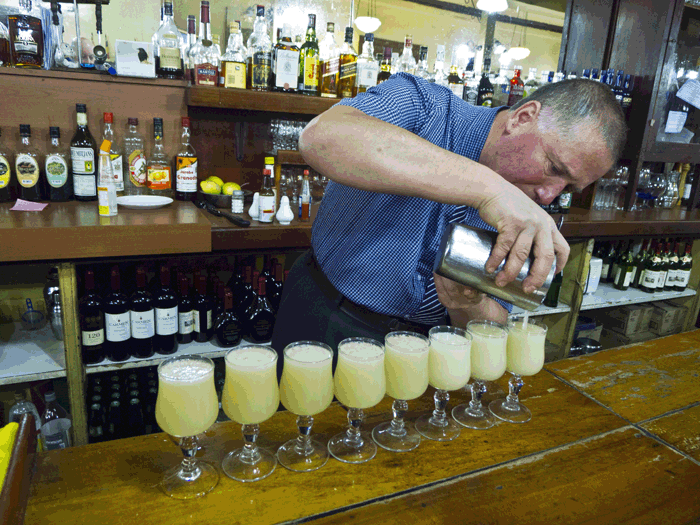 Bar Ingles is a classic white tablecloth joint that teems with bankers and politicians during afternoon lunch.  The San Carlos looks like the set for a scene from the old Superman teevee series, except it's in (subdued) color.  The Cinzano is affiliated with the tango school upstairs, and many nights feature live tango entertainment.  La Playa has been retrofitted with black and white pictures of movie stars.  And the Menzel has booths with curtains for the illusion of privacy.
Besides the bars, Valparaiso is near the heart of Chile's central valley, where much of the country's wine is from.  A bottle that might cost twelve bucks in the U.S. costs two at any liquor store.  For four bucks you can get a twenty dollar wine.  There are even wines that cost more than ten dollars in Chile, but I never went there, because, why would I?
The cheap Carmeneres are sweet, but it's worth drinking them just so you can tell your wine snob friends that, in Chile, the cheap Carmeneres are sweet.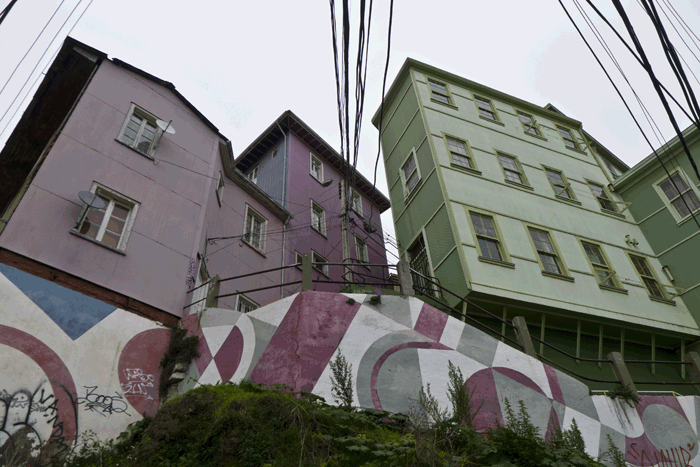 If Valparaiso is anchored in the past, it's also listing towards the future.  Valparaiso is home to at least five universities.  Students come from all over the world to study in Valparaiso, which supports a teeming nightlife, abetted by the liberal liquor laws which allow nightclubs to serve till five in the morning.  A recent change in the law also allows the clubs and discos to stay open till seven.  Personally, I was never out later than one or two or three, and that was on the streets, hanging out with my fellow deviants.  I don't spend a lot of time in nightclubs anymore.  But judging by the states of some of the people that I saw at eight or nine in the morning, I'm thinking that you may be able to get a drink, even after hours.  Of course, those people I saw could have been drinking off-premise, as I was.
Except for the wine, Chile's not cheap.  There are no Motel 6's in Chile.  Rooms will run fifty to sixty bucks minimum, and monthly rentals can be hard to come by in Valparaiso, especially in the summer, which is the Northern Hemisphere's winter.  But Chile's winters are mild.  Mediterranean, the guide books call them.  Aloe Vera grows out of the ground till it's hedge-sized.  Some jade plants are as big as mailboxes.
And then there's the matter of airfares.  Use your lover's miles, like I did.  Of course, if you absolutely had to, you could walk to and from Chile, if you had enough time and perverse motivation.  It's that option to walk home which makes South America preferable to Europe for me.  Meals, generally, are more expensive than in the U.S., except high-end restaurant meals, which are comparable, or, peculiarly, less.  Chilean cuisine is predominately unimpressive, typically either fried fish or French fry centric.  There is, however, an ample penetration of Peruvian restaurants where you can get a good meal.
Despite the earthquakes, things are changing in Bohemian Valparaiso.  The drum line that's been entertaining us since our arrival three months ago has been ordered to desist playing in the plazas because they don't conform to the patrimonia, the historical heritage of the city (never mind the graffiti throwups that cover every vertical service, that have been encouraged by the city since the aughts.)  The municipality has plans to remove the 200-year-old (at least) magnolia trees in the plazas to facilitate the construction of underground parking lots.  Ten people holding hands could not reach around these trees.  I doubt such an impressive specimen will grow in the next 200 years.
I'm not the first person to go to Valparaiso, and I won't be the last.  Chile is insinuating itself into North American culture, via movies and blog posts.  The world is getting irreversibly smaller.  But for now, Valparaiso retains a gritty Bohemian edge.  Get there before the bankers mess it up.