Maybe you'll think you're in Barcelona. After all, most of the rock is en español. Or maybe Mexico City. Or Miami.
Some recent clients said it was like New York. Or the hippest bar in London, or Dublin, or Paris.
All that illusion will be dispelled when you get the check, because this bar is in Juarez. On Avenida Juarez, to be precise, a half block past the cursory non-inspection by Mexican Customs, on the first block.
I first wrote about La Esquina de Chihuas soon after they opened, but they've upped their game since then. Honed their skills. Refined their product. Now, La Esquina de Chihuas is the best resto-bar on either side of the border.
The biggest change is the new back room. The new back room elevates an already seductive space. The ambience is crisp. Stylish. Modern. Chic. Slightly north of minimalist, like sharp-creased chinos and a turtleneck sweater.
La Esquina de Chihuas is the synthesis of El Paso and Juarez we haven't been waiting for, because we never imagined the possibility could be realized. But here it is.
Multiple big screen teevees play non-stop music videos, curated by the club's owner, Ricardo Hatfield. During the day, the music runs towards melodic rock, in English and español, but at night, the songs are more ranchera.
I hate teevees. I don't own one, so I am immediately seduced by the moving images. They suck me in. Nonetheless, through the judicious application of fermentations and their distillates, I tolerate it.
Of course, if there's a futbol game to be seen, the music takes a back seat. Champions League Round of Sixteen games started at 12:45 last year, 15 minutes before the bar's nominal opening time of one p.m., but adjustments were made.
(Jerry, one of the club's managers, is a rabid Barcelona fan.)
The liquor selection is copious, and reasonably priced.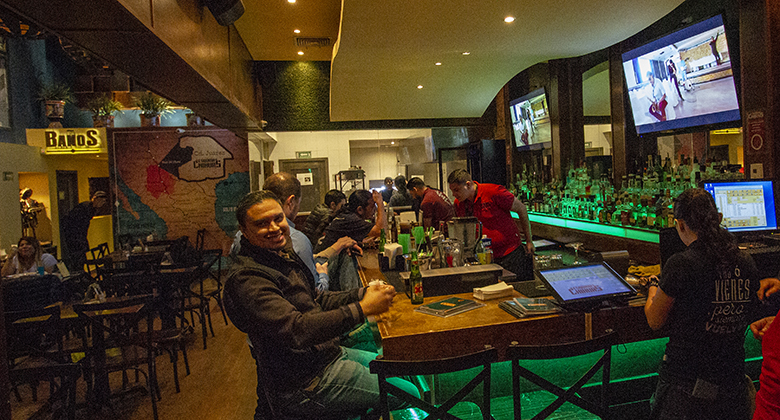 Montelobos is a mezcal made from the cultivated Tobalá agave. A shot will set you back 115 pesos. If you cash in your dollars at one of the abundant casas de cambio on the street, today that converts to about six bucks. Bruxo Numero Dos, a pechuga mezcal distilled with a chicken breast in the soup, goes for 60 pesos. More or less pedestrian mezcals range in price between the two.
Don Julio Real tequila sells for 300 pesos, and 1942 costs 150. If you're tastes run European, a snifter of 18-year-old Macallan will set you back 425 pesos, and Johnny Walker Blue Label (Etiqueta Azul) is a bargain at 190.
A selection of Chihuahua sotols caters to locaholics.
The prices are surprisingly good, but the real surprise is that you can get such treasured elixirs so close to the bridge.
If you're drinking, you might as well eat. A rib-eye costs 245 pesos, and the bar's most-requested cut, the arrachera steak, costs 195 pesos. The kitchen also features a range of ceviche tostadas, and, for the daring, what, on the menu, looks like a whole octopus. Don't those suction cups stick to the roof of your mouth?
And are those an upscale rendition of Chico's Tacos soaking in a red sauce with four kinds of cheese? What? No cardboard boat?
If you find yourself temporarily embarrassed financially, there are also a variety of food and drink specials during the week. For instance, on Wednesdays the chicken wings are six pesos each, and on Thursdays tacos de bistec will set you back seven pesos apiece. You can check out their daily specials on their Facebook page.
If you looking for a more sophisticated dining and drinking experience, if you have Cristal tastes and a Carta Blanca budget, La Esquina de Chihuas is the place you would have been hoping for if you knew such a thing were possible. Now, it is.