I found this artefact on the street the other day. You think it's old?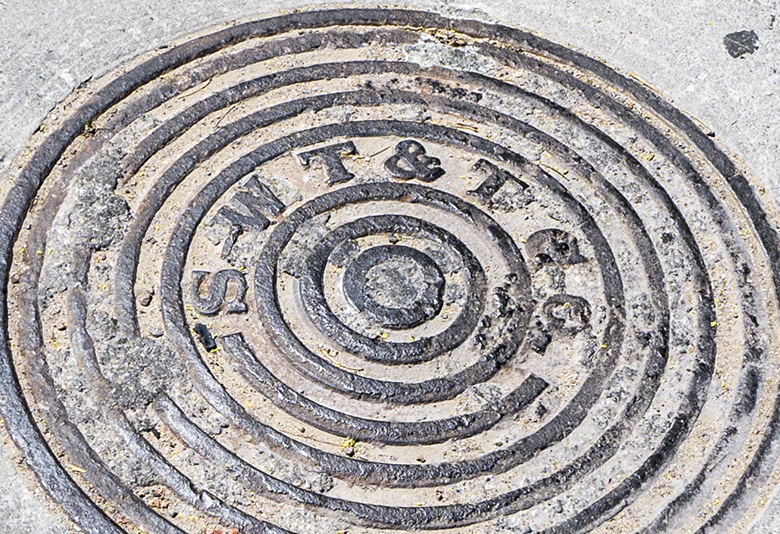 From the Texas State Historical Association website:
The Southwestern Telegraph and Telephone Company, organized in 1881 to operate exchanges in Arkansas and Texas, took over the Galveston and Houston exchanges and started exchanges at Austin and San Antonio. A Dallas exchange with forty subscribers opened on June 1, 1881, and a Fort Worth exchange opened on September 1 of the same year with about the same number of subscribers. The Waco exchange opened with forty-five subscribers on October 1, and during 1882 exchanges were opened in Brownsville, Brenham, Cleburne, Colorado, Corsicana, Gainesville, Greenville, Jefferson, Marshall, Paris, Palestine, Sherman, Denison, and Texarkana. The next step in development for the new Texas industry, connecting individual exchanges by long distance lines to allow people in one town to talk with those in other towns, was completed in 1883 with construction of the state's first long distance line linking Galveston and Houston. In the spring of 1883 eastern capitalists purchased Southwestern Telegraph and Telephone, changed the company's name to the Erie Telegraph and Telephone Company, and established temporary headquarters in Little Rock, Arkansas.
So this manhole in El Paso was installed before 1883, before they changed the name? Maybe not. Maybe they had old manhole covers in their inventory. Anyhow, a long time ago.
Isn't Manhole in El Paso a Kinky Freedman song?
On July 19, 1883, general offices were established at Austin. A little more than a month later there were 2,344 subscribers statewide: Galveston, the largest exchange, had 330 subscribers; San Antonio, 323; Dallas, 259; Fort Worth, 168; and Houston, 148. The following year, in an effort to improve unreliable service, the company established a precedent when it introduced women as operators during night hours at Galveston. Boys had initially been used as operators, but their rude remarks to customers and their erratic operating practices were a trial to telephone users. The practice of using women as operators was soon established in all exchanges.
And the rest was history, and it happened right here in the hood.