Good news, everybody.
From a May 6, 2022, story on ElPasoTimes.com:
El Paso Water completed cleanup on the Rio Grande this week, with several weeks to spare before irrigation season.

The utility announced Friday all contaminated soil has been removed from the river. The soil is now deposited in mounds on the riverbank and will be removed by truck in the coming weeks. El Paso Water had committed to thoroughly cleaning the riverbed before the start of irrigation season June 1 to ensure farmers receive clean water.

. . .

From August 2021 to January 2022, El Paso Water diverted sewage into the Rio Grande because of a wastewater main break on El Paso's West side. Since the new pipeline was connected and sewage stopped flowing into the riverbed, the utility has lead clean-up on the Rio Grande and adjoining canals.
I took this picture from the top of the Paso del Norte bridge on May 13, a week after El Paso Times reporter Martha Pskowski wrote that piece.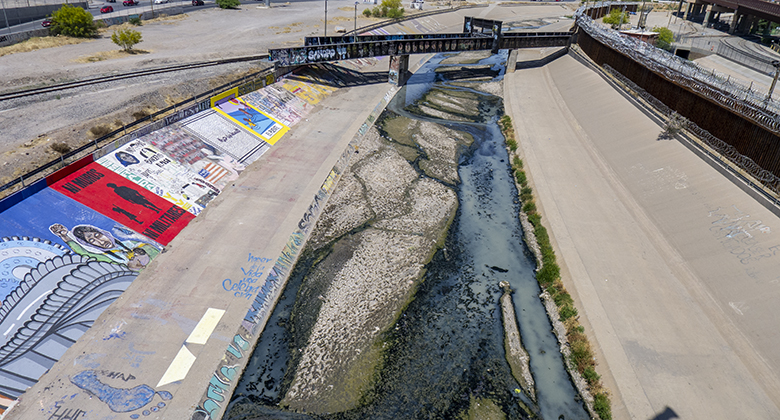 Does that look like they cleaned up the river?
We used to be able to see the concrete from the top of the bridge. Now, there appears to be about six inches of sludge in the concrete riverbed.
I'm guessing that El Paso Water only cleaned the river up to the point where the American Dam diverts water into the canal for El Paso's farmers. Right before the river becomes the border, over there below the old Asarco site, south of the railroad bridge.
But El Paso Water says it's done. They've finished cleaning up the mess they caused by pouring 100 million gallons of raw sewage into the river every day for more than three months. More than a billion gallons. Of raw sewage.
I hear the river goes dry somewhere down there by McNary, or Fort Hancock. I guess that's good. And downtown, the river doesn't smell like poo anymore.