There's a big push to make Avenida Juarez an international tourist destination again.
Never mind the big border security apparatus that might take an hour to navigate, if you're walking. Two or three hours if you brought your car. But that's only to get back into the United States. For the immediate present, getting to Juarez is easy, and as for returning – well, we'll cross that bridge when we come to it.
And never mind the Juarez violence that gets all the ink. If all you knew about the U.S. was what you read in the paper, you'd never want to go there, either.
For the most part, Juarenses have abandoned downtown Juarez. At least those Juarenses who might constitute a market for the relatively upscale joints popping up on The Drag.
Juarez, like all of Mexico, is divided by class and income. And the rich, and even middle class, Mexicans don't go downtown, mostly.
The commercial establishments in downtown Juarez are supported by the people who live near downtown, in La Chaveña , or Bella Vista, or Barrio Alto, or any of the other myriad neighborhoods that crawl up the mountain. The people who actually live downtown are mostly junkies, and prostitutes, and junkie prostitutes, and, increasingly, migrants, both internal and from other dismal countries, forced out of their homelands by climate change and violence.
No wonder people with options don't want to go to downtown Juarez.
But there's a concerted effort to change that, both the reality and the perception.
There's a new(ish) joint on Avenida Juarez that's entered the entertainment fray, joining La Esquina de Chihuas and the perennial Kentucky Club.
It's La Feria, right there on the second block after you've walked over the Santa Fe Street bridge, which is actually at the southern end of El Paso Street.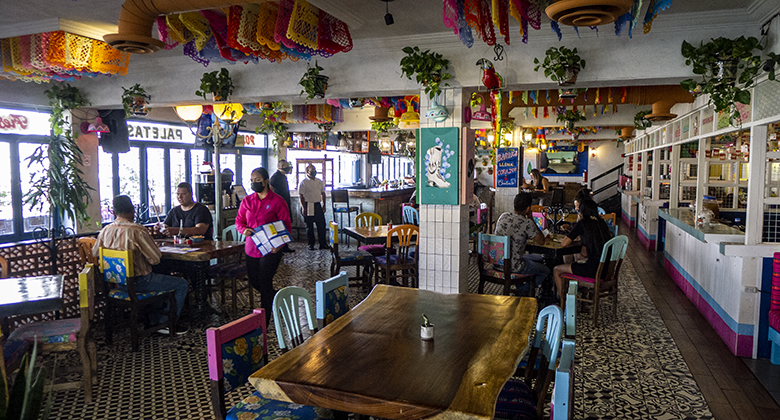 La Feria opened months ago. I mentioned it in a previous post, but I'd just come from my Beverly Hills dentist in Juarez, and I didn't go in.
Well, the week before last I went over to Juarez to get some contact lenses. Under COVID restrictions, contact lenses and dentistry are a couple of the government-approved reasons a body can go to Juarez these days.
Since I hadn't had a tooth pulled and it was after noon, I popped into La Feria.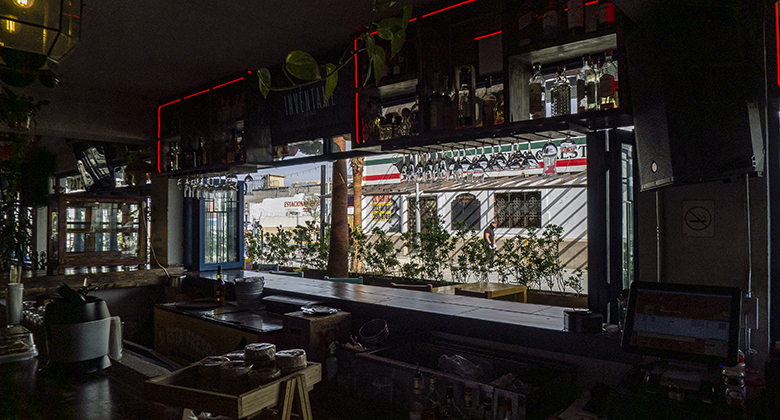 La Feria is a nice place. Clean. Airy, with big windows that open to an outside bar on the mostly pedestrian side street.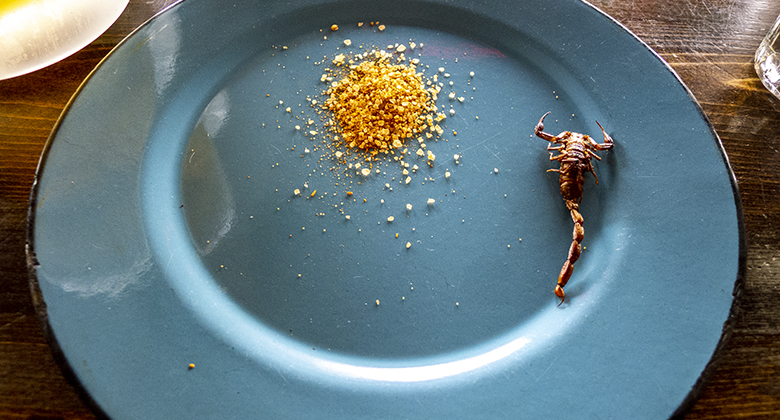 Except for a scorpion, I didn't eat at La Feria, but La Feria is the sister ship to San Martin, and San Martin is a popular restaurant (on the corner of Lincoln and Hermanos Escobar) at which I have enjoyed a few meals. I'm sure the food is good at La Feria, and very competitively priced, vis-à-vis El Paso, and outrageously expensive vis-à-vis Burritos Menny.
The bar is amply stocked, but it doesn't have everything, not like La Esquina, but it's got enough.
The received wisdom in the industry is that three bars constitute an entertainment district. Just think, when the U.S. government's prohibition on travel to Mexico end, you can go barhopping on Avenida Juarez. I'm sure other places will be opening on Avenida Juarez, also, once we've got a handle on the virus.
Or, if you don't want to wait, you can go buy some contact lenses.