I've been trying to figure out why the City's recent branding efforts have been off-key. They refuse to acknowledge that El Paso is the most Mexican of American cities. As though they're in denial about it. As though they're delusional.
So I went back to Glass Beach. In private, many of El Paso's decisioin makers will tell you that El Paso's current branding efforts are based on the 2006 Glass Beach Branding Research Study, which was generally derided by critics for its perceived racism.
I'm not sure it's racism. I think it's probably more cultural bias than racism, and that cultural bias probably has roots in the American psyche more than the people who conducted, or adopted, the study and the subsequent implementation proposal.
"Branding" is more than your logo and your message. It's more than what you say you are. Branding is the whole gestalt of a product, good, or service. It's what you say you are, and what you are, and how people feel about you, and even how you feel about how people feel about you. A successful brand incorporates and encapsulates all of that.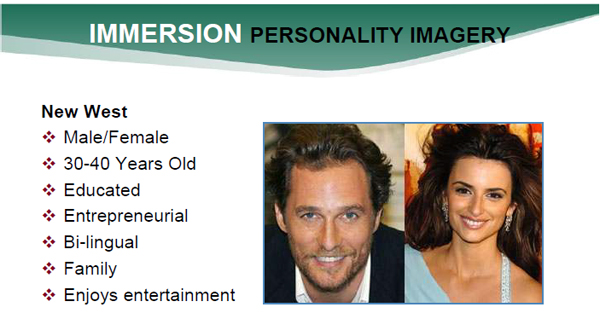 Glass Beach suggested that El Paso attempt to project itself as the New West:
Male/Female
30-40 Years Old
Educated
Entrepreneurial
Bi-lingual
Family [oriented]
Enjoys entertainment
While those are all admirable, attainable, qualities for El Paso, Glass Beach also proposed that El Paso try to distance itself, in the public's perception, from Mexico.
That's like to scrub the white off of a snowflake.
Talking about El Paso without mentioning Mexico is tantamount to lying. And all your good intentions are wasted if the object of your affections thinks you're a liar. And it won't take too long for relocators to realize that El Paso is Mexican, even if the City, and the Borderplex Alliance, are in denial about it.
Besides, Mexico has a rich cultural history that El Paso should exploit. It has music, and cinema, and cuisine. (If you want an instant exposure to Mexico's musical past, check out XEJ, La Jota Mexicana, 970 AM.)
Maybe this rich cultural history is lost on most Americans, but obviously El Paso shouldn't be targeting most Americans. Any marketing campaign should build success on the low hanging fruit, those most susceptible to its message. Build momentum with the early adopters and the influencers. Like the famous Jewish philosopher said in his famous marketing parable, "Don't sow your mustard seeds on rocks."
The proof of my contention is in the tag-line that Glass Beach came up with to capture their branding efforts: El Paso – It's Your Canvas.
If you take away Mexico from El Paso, all you have is a blank canvas. An empty frame. What kind of brand identity is that?
El Paso's current tag-line is similarly vapid and dissembling. When the city adopted the phrase It's All Good, they ignored the truth that it's not all good in El Paso. El Paso suffers from perennial high unemployment and low educational attainment. A considerable bulk of our highest paying private sector jobs (according to this guest column in the El Paso Times) are based on the exploitive employment of Mexican laborers who are paid starvation wages in maquilas in Juarez. And our property tax rates are the fourth highest among the fifty biggest cities in the U.S.
Don't get me wrong. I love El Paso. El Pasoans are friendly and polite. In El Paso, the skies are big, and the sunsets are world-class. And I love Mexico, and El Paso is literally and figuratively as close as you can get to Mexico without crossing the border.
But It's All Good isn't branding, it's advertising, and any sophisticated (or not so sophisticated) consumer of media can spot the bullshit from a mile away. Bullshit is poison for brands. If the city is a purveyor of bullshit, to whom can prospective relocators turn for the truth?
Albuquerque, maybe, or Tucson, or San Antonio, all of which choose to emphasize their Mexican cultural heritage.