There are thousands of places to eat in Juarez. Maybe tens of thousands.
The barriers to entry are low. If you have access to a stove and an old plastic ice chest you can sell burritos bar to bar. With only a little more investment you can buy a cart, or set up a stand on the street corner. The leap to brick and mortar is only slightly more daunting.
There's even a Facebook group, Garnachas and Restaurantes, devoted to reviewing the restaurants in Juarez.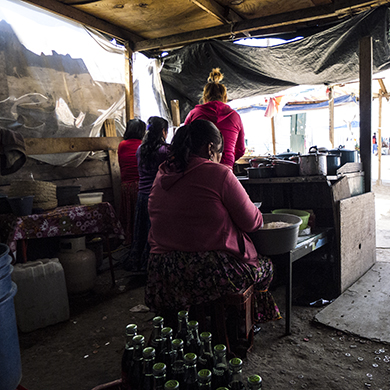 For a couple of years, the Raramuris ran a couple of competing food stands at the corner of Dieciseis and Mariscal, in the shadow of the cathedral. They were displaced by some massive construction project. The word on the street is that Fredy is building a retail center. Rents downtown are said to be the highest in the city. All the buses go downtown, and the foot traffic is crazy.
The Raramuri food stands would have had dirt floors except the dirt was paved with bottlecaps. The women washed the plastic dishes in plastic buckets, and pressed the tortillas on formica slabs cradled across their laps. I used to take people there for the nopalito gorditas.
Before the steel girders went in for the new mall they cleared the lot where the food stands stood. The also moved the bust of Benito Juarez that marked the location of the presidential office in the 1860's. I mourned the loss of the gorditas.
Well, they're back. In a sturdy brick building with floors and windows and doors. Running water. A bathroom. There's no sign, so it's a little hard to find.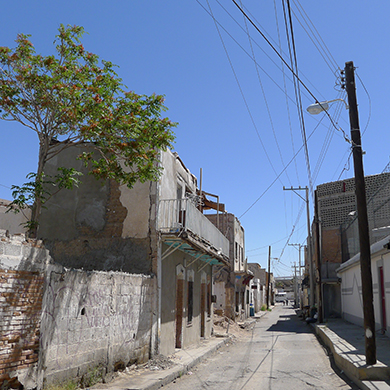 The building is located on a small block bordered by Mariscal, Ugarte, and the Callejon de la Independencia, at the end of the squalid little alley that Google maps call Carreño. The alley runs from just north of the Templo Bautista on Avenida Juarez to the callejon, right next to a building with a sign that says Abarrotes La Metralla, and it would be a good way to take someone to the food stand, just for its squalor.
From that approach you walk in the back door, like a VIP, like Henry Hill in Goodfellas, without tipping everyone, with the same exclusive access you can get at the Italian Kitchen, if you park in the alley.
Inside they serve gorditas, flour tortilla envelopes stuffed with your choice of lots of fillings. Nopalitos, with pork or beef or egg. Queso con rajas. Chiles verde and colorado. At least a dozen different varieties. Or at least eleven. They're not the same gorditas you get at church bazaars, or the Little Diner, which are corn.
It's good. It's exotic. It's cheap. And it helps the struggling Raramuri community in Juarez by providing work and income.
Check it out.