Downtown Juarez is experiencing a renaissance and it's not all financed by tax credits and municipal largess for Juarez' richest citizens.
New restaurants are opening up on the strip. If you time your visit right, you can avoid, or at least reduce, the time spent in line to cross back over to the U.S.
One of the coolest things happening in downtown Juarez is happening in the Plaza Cervantina, almost directly across the street from the old Post Office on Lerdo, south of Dieciseis. Some cultural and counter-cultural creatives are reviving an old building there.
It's called the Edificio de los Sueños. When it's finished, the building will host studio workshops and galleries, and generally promote cultural and counter cultural awareness and events.
Saturday, the people responsible for this excellent project are hosting an in-person auction to help fund the building's restoration.
Here's what it's all about:
The Instituto para la Ciudad y los Derechos Humanos (ICIDHAC) is a non-profit organization founded in 2018 as a result of the Juárez-Berlin Initiative, an exchange project between the International Working Group (IAK) and different Mexican organizations and institutions. ICIDHAC is promoted by a group of citizens, artists and professionals in the areas of law, culture, architecture, urbanism, sociology and literature, among others.

In 2019 we bought a building which we endearingly called El Edificio de los Sueños (The Dreams Building), located on Plaza Cervantina in the historical center of the city. The project aspires to become a cultural and solidarity economy center, a self-sustainable space to host artistic, cultural and educational activities that promote the right to the city and all human rights. We also intend to trigger a social dynamics alternative to the process of gentrification currently underway in downtown Juárez.

This benefit auction and exhibition for El Edificio de los Sueños is organized in collaboration with Azul Arena y and with the solidarity of more than 40 artists, with the purpose of raising funds to continue the (re)construction of the space.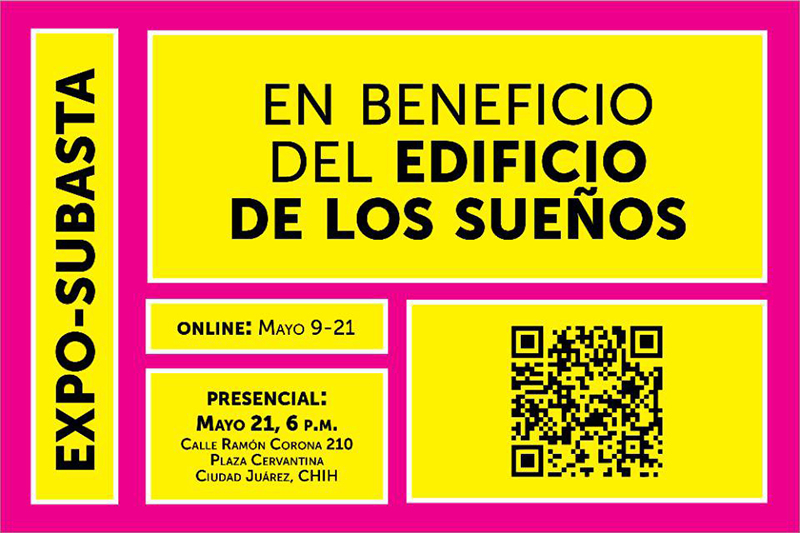 The in-person event takes place at 6 p.m. and should be a real good time. You'll get to meet and hang out with lots of the real cools from Juaritos.
Here's a map that Google generated when I asked for directions from the bridge.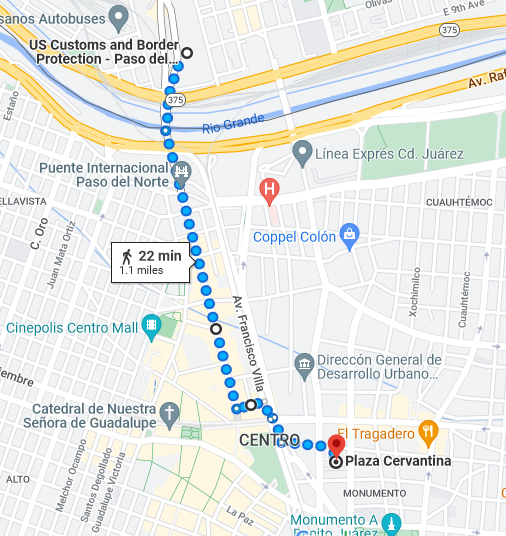 (Google says you should take the alley past Club Bach before you get to Dieciseis, but you definitely should not. Google doesn't know downtown Juarez like I do. You should either turn left on Abraham Gonzalez, before the Juan Gabriel mural, and turn right on Ferrocarril (Francisco Villa) when you get to the bullring or go all the way to Dieciseis before you turn left.)
But you don't have to attend the auction to participate. If you'd like to bid on objects in the auction online, you can view the art and bid via this link.
This is a great cause, and worthy of your support.