El Zocalo is improbably located on Avenida Juarez, near Dieciseis, where the tunnel erupts into the street.
I say improbably because the Zocalo is a little upscale, and downtown Juarez is a little on the shabby side of upscale.
The dining room is small, and the fixtures are rural yet elegant. The walls of the Zocalo are marigold orange, and Día de Muertos paraphernalia decorate the walls. Lots of places in downtown Juarez play 80's American rock. I hate that. I prefer music from Mexico's Golden Age, and when I went to El Zocalo on Saturday they were playing Trio Los Panchos. The one other time I visited the music selection was musica romantica. Not my favorite, but better than 80's rock.
The menu features some dishes from southern Mexico, like Molotes Poblanos, Sopes Distrito Federal, Enchiladas Potosinas, and something called a Pambazo Tlaxcalteco, as well as other stuff.
The prices are a little expensive for downtown Juarez. Tacos al Pastor go for 60 pesos, about three dollars U.S. I don't recall anything that cost more than four dollars.
That, of course, is cheap by American standards, but there are places in downtown Juarez where you can buy two burritos and a soda for a dollar.
Juarez is cheap for Americans, but times are hard for Juarenses.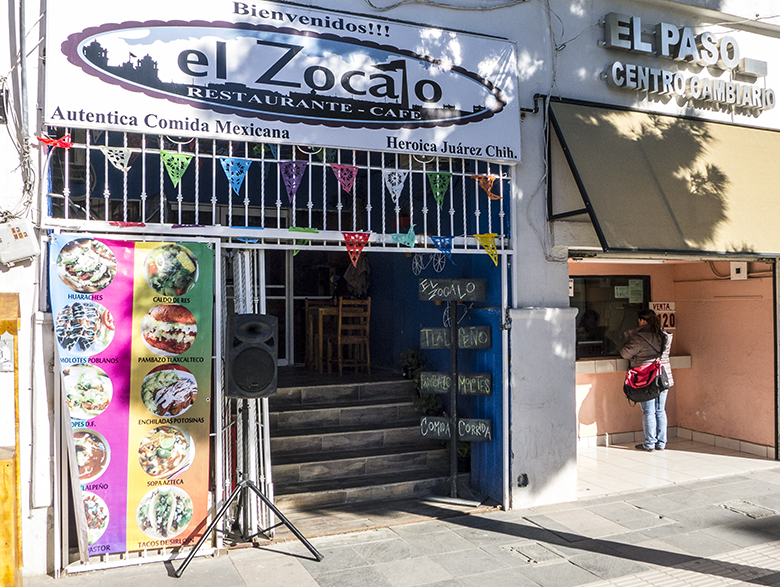 El Zocalo is a good place to take a date, or to meet another man's wife, because it's small. You're not likely to run into anyone you know. Even though I did. Run into someone I knew. Not take another man's wife.
El Zocalo doesn't sell beer or wine, but you can sneak in a bottle if you're discrete. You might have to drink from coffee cups.
Tell them I sent you.