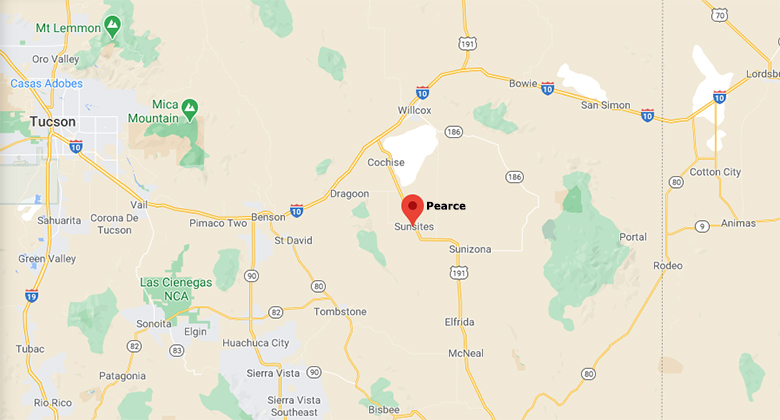 Getting on the Ghost Town Trail
Pearce, Arizona marks the beginning of the Ghost Town Trail. Start heading southwest out of town down the gravel road that goes past Courtland and Gleeson and eventually drops you off in Tombstone and you will find yourself in some very desolate territory. No doubt you'll encounter someone from Homeland Security, who will laugh at you for wanting to travel over something like thirty miles of rutted dirt with perhaps a few drug runners scattered about in the hills. But all that will come later, as Pearce itself is still occupied by a few folks and is a rather well-kempt little cluster of buildings. It must feel much as it would've in the late 1800s.
Pearce is named for Cornishman James (Jimmie) Pearce, a rancher and hard rock miner from Tombstone who accidentally found gold AND silver while horseback riding in 1894. Jimmie immediately staked a claim, opening the Commonwealth Mine in Fittsburg, a mile east, said to be one of the richest mines ever worked in the state, producing over 15 million dollars in gold. Thus was born Pearce, the last of the Arizona gold rush towns.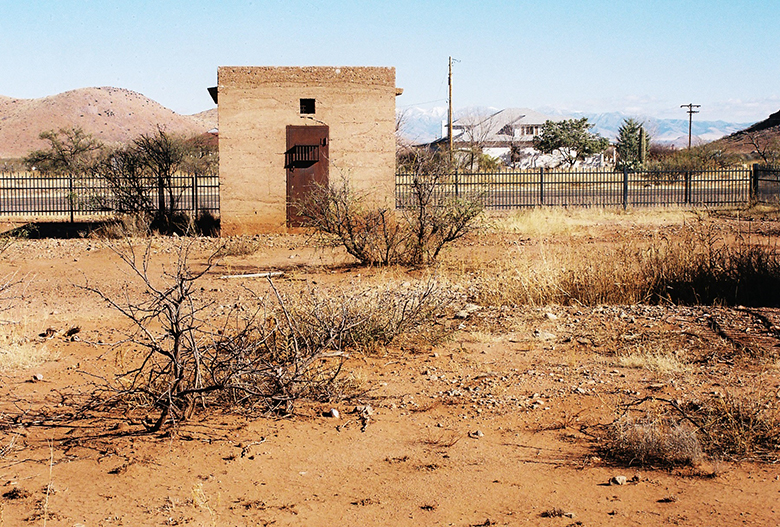 The Pearce family quickly lost their enthusiasm for mining though and before long had sold to John Brockman for $250,000 and a boarding house for Mrs. Pearce to run. The agreement was that Brockman had nine months to mine enough precious metal to cover the cost of purchase or everything, including what Brockman mined, would revert to the Pearce's. In the end, Brockman covered his payment in six months with gold to spare. Apparently everyone was happy with the deal. Mining then peaked quickly, in 1896, around the time the post office (shown above) arrived and the population really boomed, many people moving their entire homes from Tombstone.
Brockman's operation suffered a few annoying fires and he sold in 1902. But a couple years before Brockman's sale, Burt Alvord had turned from Pearce lawman to train robber and the infamous Alvord-Stiles gang set-up in town. However, the gang was mostly dead or in jail by the time the railroad finally arrived in 1903. Before that, to deter theft from folks like Burt Alvord and Billy Stiles, gold coming out of the mine was made into bars too heavy to be transported by horseback alone and taken down the road to Cochise by wagon.
By 1919, 1,500 people are said to have lived in Pearce. There was a movie theater, hotels, saloons…the works. But, by the 1930s, the Commonwealth Mine was played out, the Great Depression was in full swing and almost everyone packed up and left, including the railroad, which took its track with it.
There are a number of very cool old structures remaining in Pearce. Perhaps most striking is the old general store, shown at the top of this post, built by Soto Bros. & Renaud in 1896 out of adobe, wood, stucco and decorative tin. I've read that there are many interesting artifacts inside, but when I tried to have a look there was no one around. In fact, the building appears to be for sale, so who knows what the future holds? The post office, just across the street, is a private residence. To the north are two jails: The "old" jail, which has reached such a state that even the least devious among us could easily break out, and the "new" jail, shown here, which was built in 1915 and used until around the time the mine closed in the 1930s. The "new" jail is constructed of 10" thick poured concrete walls reinforced with rebar and contains two cells. The doors are iron and the only ventilation is through tiny windows at the top. During a summer's day in southern Arizona this would be a most unpleasant place to find one's self.
The best and most concise resource on Pearce is probably Arizona Ghost Town Trails. There is some more history and photos of both jails at ghosttowns.com. You can learn a little more about Burt Alvord and his gang HERE. As usual, initial inspiration and direction came from Mr. Philip Varney.
So, of course, we're going to head down the lonely Ghost Town Trail. Next we'll have a look at Courtland, AZ.
City of Dust creator John Mulhouse's new book, "Abandoned New Mexico: Ghost Towns, Endangered Architecture, and Hidden History," published by Fonthill Media, is now available at: https://cityofdust.bigcartel.com/.