Cool Water
The hike from the Dripping Springs Natural Area visitor center to a cluster of lovely old ruins tucked back in the Organ Mountains is only about 1.5 miles. However, if you arrive on, say, Thanksgiving, and find the access gate locked, your hike will begin with a view something more like the one above. No need to worry. Here at City of Dust we are not discouraged by long, barren stretches of desert road. In fact, we are positively encouraged. Just push your hat down a little farther and bring more water. And, yes, we did still pay the $5 day use fee.
Aptly named for the little spring that dribbles down off a high rock face, this rare water source in the parched mountains of southern New Mexico has attracted both man and beast since time immemorial. Dripping Springs is best known as the site of Major Eugene Van Patten's Mining Camp, which was really a vacation spot and is sometimes referred to as the Dripping Springs Resort. When the resort closed, Boyd's Sanitarium was built just around the corner.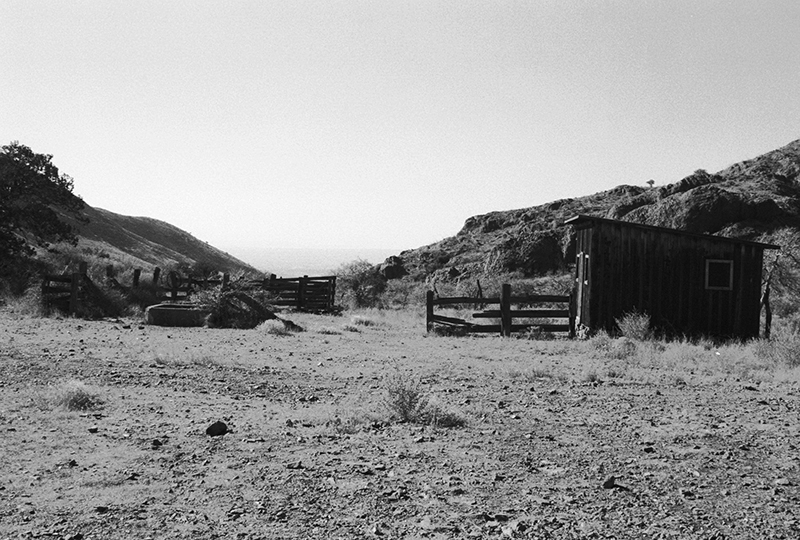 After hiking to the visitor center and then finally starting the 1,500' climb to the spring itself, which sits at about 6,000', we came across some old wooden buildings. These were built in the late 1800's and include a livery, mercantile, and chicken coop. They were used by the resort which, as we shall see, was pretty swank for its day and location. Back then, folks rode the 17 miles from Las Cruces by stagecoach and thus it was handy to have a place to stable your horses and get fresh eggs, too. Local Native American boys took care of the livestock and tended the garden, as well as carrying jugs of water from the spring on long poles and dancing for guests.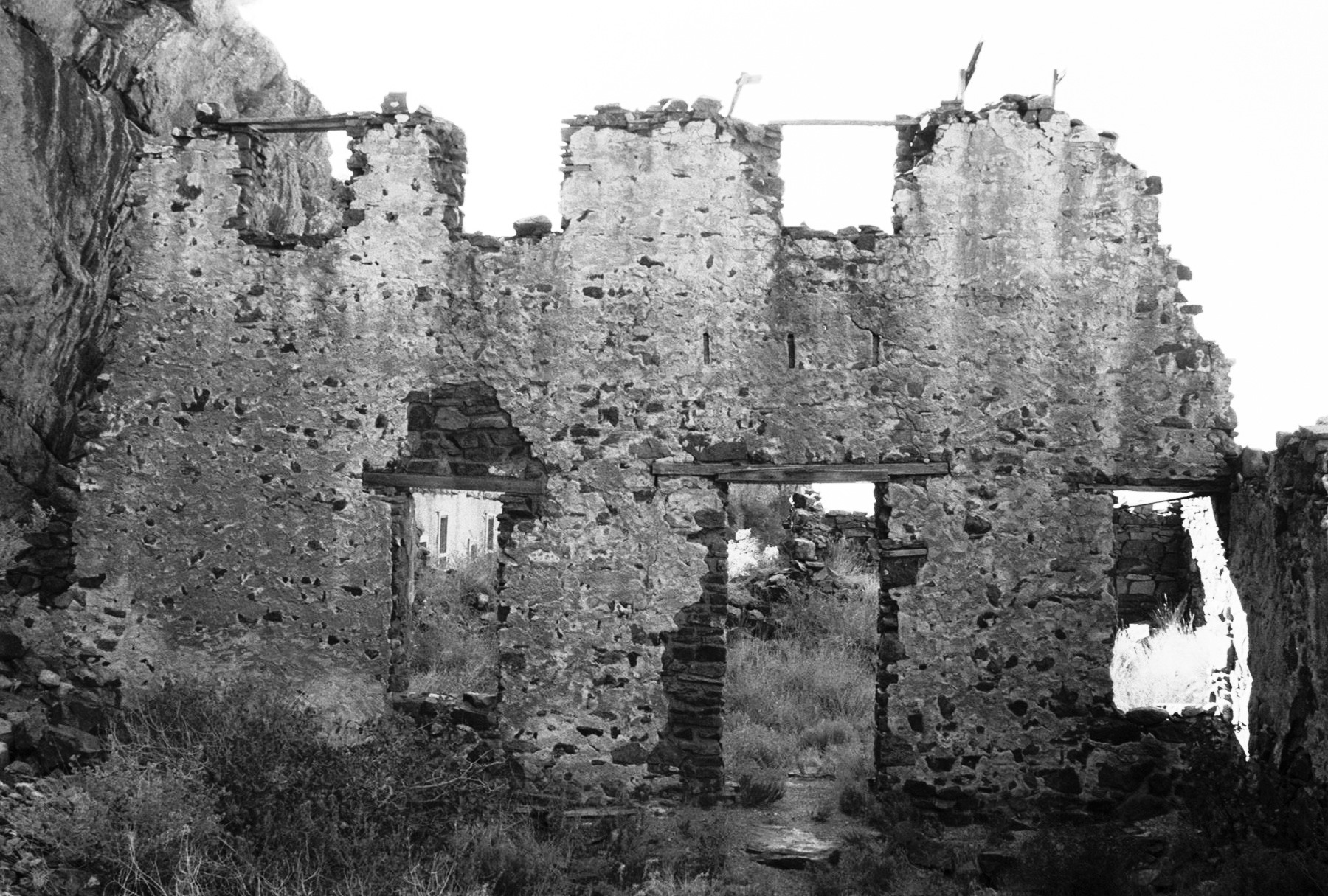 Using local rock from the canyon and mud-mixing plaster, construction of the resort began in 1895. By 1897 it was open and advertising for guests. Comprised of two wings in an "L"-shape, one wing contained the two-story, 14-room hotel and the other a dining hall, dance hall, living quarters for workers, and the all-important roller skating rink. Muslin covered the ceilings of the bedrooms, some of which were brightly wallpapered. A gazebo doubled as a bandstand and the grounds were carefully landscaped. In 1906, 18 more rooms were added to the hotel. The photo above is of the back wall of the old hotel.
Major Eugene Van Patten was a real character. Born November 10, 1839 in Oneida, New York, Van Patten was West Point educated and, as nephew of Colonel Butterfield, helped establish the El Paso leg of the famous Butterfield Overland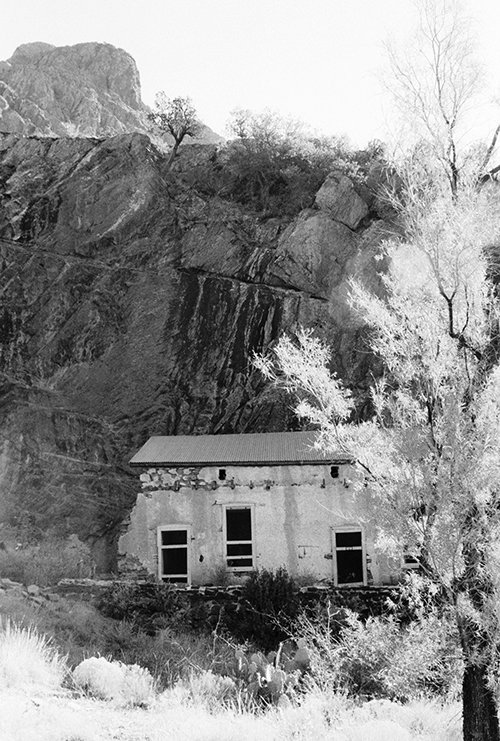 Mail Company stagecoach route. On February 9, 1860, while traveling from Tucson to Mesilla, Van Patten's stagecoach was ambushed by Apaches. Van Patten and his passengers had to hide in some rocks until a party of traveling merchants came to their aid. Despite being from New York, Van Patten joined the Confederacy during the Civil War and served on General Stonewall Jackson's staff. Once the war ended, he professed himself to be a member of Abraham Lincoln's Republican Party for the rest of his life. In 1865, he married a high-ranking Piro Indian, Benita Madrid Vargas, and became involved in Native American affairs. Through the late 1800's, he was everything from a county sheriff to a deputy U.S. Marshall to an organizer of the NM chapter of Teddy Roosevelt's Rough Riders, though he himself did not ride roughly. Financial problems forced him to sell his resort in 1917 to Dr. Nathan Boyd and his fortunes continued steeply downhill from there. He died nearly penniless on February 28, 1926 at the age of 86.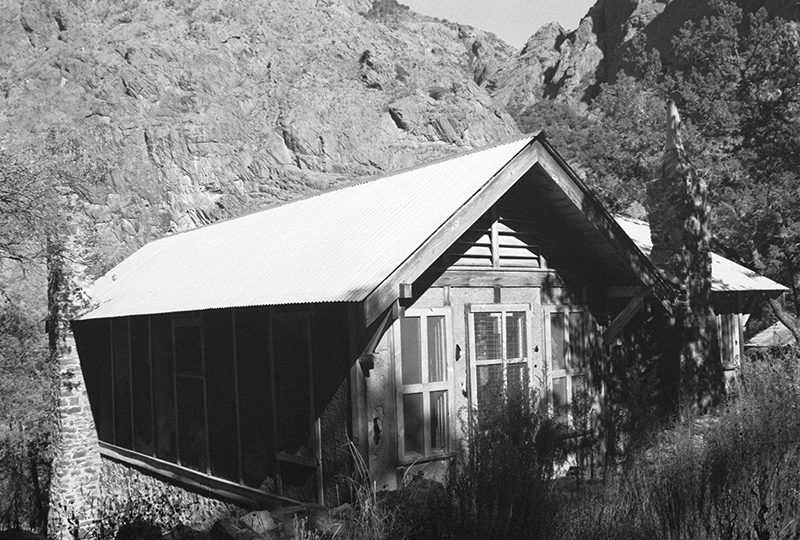 Dr. Nathan E. Boyd had been hanging around Dripping Springs since 1890. Despite being a medical doctor, he was mostly involved in land speculation. In 1892-1893, he began trying to get authority to build a dam across the Rio Grande near Engle, NM, not far from where Elephant Butte Dam is now. The dam was actually begun, but everyone from the Mexican Government to domestic agricultural interests quickly lodged legal complaints. Not surprising, since Boyd wanted ½ of any land irrigated by his reservoir. As a result, Boyd was entangled in legal proceedings until almost 1915. Meanwhile, construction began at Elephant Butte on top of the legal foundation Boyd was laying through his years of litigation.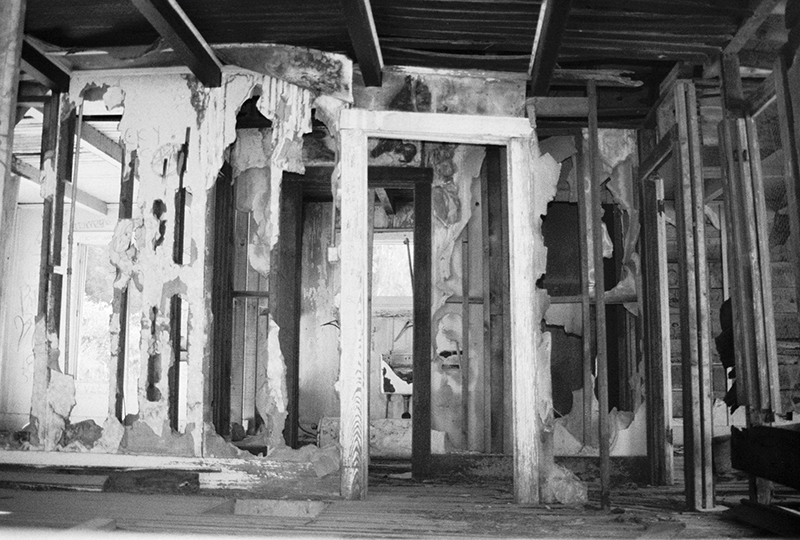 Boyd then got back into finance and real estate, establishing the First National Bank of Las Cruces. But he was soon forced out for making loans to himself. Finally, he returned to the medical profession, buying Van Patten's property with the intention of building a large tuberculosis sanitarium. In the end, he only built a small sanitarium, depicted in the two shots above and the one below. After three years, he threw in the towel, selling the land to Dr. T.C. Sexton and heading to Washington, D.C. Sexton then ran the sanitarium intermittently.
Nathan's son, Earl (or Robert, depending on your source), brought the property back into the family in the early 1930's and lived there until 1940, when he joined the military. Once he left, vandals moved in and the hotel was soon completely scavenged for building material. A.B. Cox added the land to his ranch holdings in 1957 and in 1988 the Nature Conservancy finally bought the property. Since then it's been mostly tourists making the hike up to what Philip Varney calls, "one of the most beautiful [spots] in southern New Mexico." I'd have to agree, just don't expect to get your water from the springs these days or they'll have to scare away the buzzards to get to your body.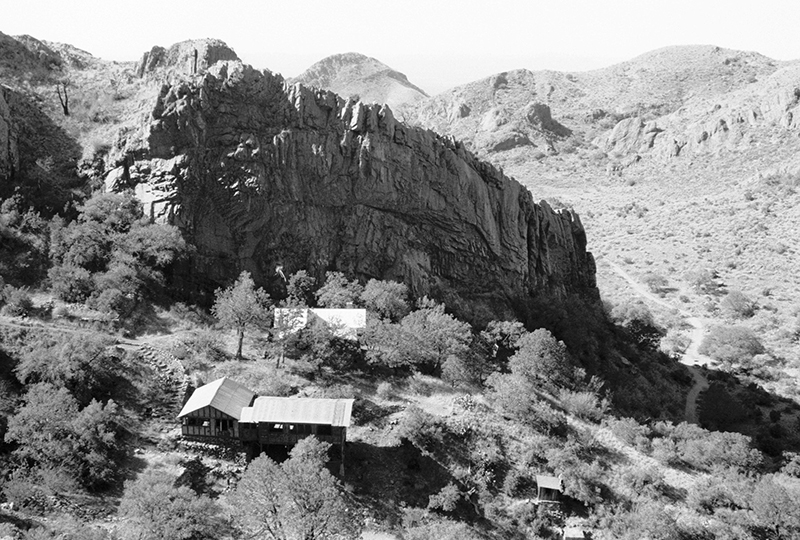 Information for this post came largely from Las Cruces Blog, which posted an excellent three-part series on Dripping Springs. Everything else came from interpretive signs at the natural area. Well, except for Varney's quote, which came from Varney.
This post originally appeared on the City of Dust blog.