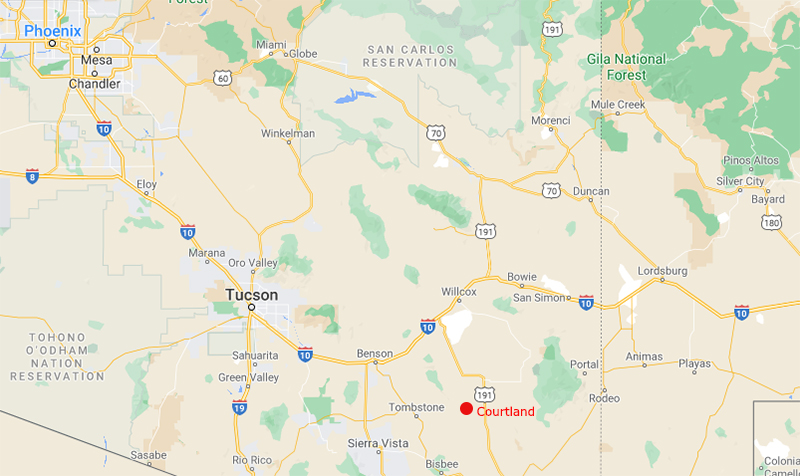 And You Will Know Me By My Jail
Traveling southwestward down the dusty Ghost Town Trail puts us in the town of Courtland, a ghost if ever there was one. You won't find the odd holdout or hermit here. There is no one for miles around in this slice of the southeastern corner of the Dragoon Mountains; only the remains of a couple buildings, the most interesting and intact being the old jail, shown above.

Named after Courtland Young, part owner of the Great Western Mining Company, Courtland, Arizona was actually established by his brother, W.J., in 1909. The post office opened quickly, on March 13 of that year. The area was considered to be one of the most promising for copper in the state and soon other mining operators entered the fray, including the Calumet & Arizona, Copper Queen, and Leadville Companies. Within a couple months, 8,000 feet of underground shaft was in place.
The population eventually reached 2,000 and there were the usual amenities, including saloons, hotels (the "Courtland" and "Great Western" being the most popular), restaurants, and stage stations. The newspaper, the Courtland Arizonan, started printing almost immediately. But there were some unusual things for the time in Courtland, including an automobile dealership, ice cream parlor, movie theater, baseball field, and horse track. Water was also rather unusual in this part of the world and, in 1911, five miles of water main were laid by the Courtland Water and Ice Company for those who didn't drink only whiskey. All this is gone now. Nearly.

For a while Courtland had no jail. Prisoners were held in an old mining tunnel until an unhappy inmate tried to burn the door down by lighting his mattress on fire. The prisoner survived, probably only to languish a bit more in the slammer, and also prompted the construction of a sturdier facility. It must've been sturdy indeed, because it is the only feature in Courtland that is not mostly rubble. It also has a twin, in nearby Gleeson. We'll visit there next.
Courtland, like the surrounding area, felt the effects of Pancho Villa and his men as they raided north of the Mexican border until 1916, when General "Black Jack" Pershing pushed them back south for good.

Just before 1920, it became apparent that the copper ore was running out. Tests showed that a limestone bed lay at about 300 feet below the surface. By 1920, mining operations were actually beginning to lose money. The newspaper shut down, and the writing was then clearly on the wall. People fled Courtland en masse. The post office didn't close until 1942 though. One wonders who was posting letters.

(The photo below shows a store which, when Philip Varney visited in the 1970's, still possessed a front on which faint lettering could be made out. Not anymore!)
One person who didn't need the post office was Big Nose Kate's former husband, George M. Cummings, an Irish blacksmith who spent some time in Courtland after Kate divorced him around 1900 for being an abusive drunk. He apparently didn't think too highly of himself either and committed suicide with a shotgun in Courtland in 1915. "Head cancer" was reportedly one of the causes.

As with our previously featured town, Pearce, Arizona Ghost Town Trails provided the best background on Courtland. Of course, Philip Varney's account was interesting, too.
City of Dust creator John Mulhouse's new book, "Abandoned New Mexico: Ghost Towns, Endangered Architecture, and Hidden History," published by Fonthill Media, is now available at: https://cityofdust.bigcartel.com/.