Hometown heroes At the Drive-in will return this Saturday to play a gig at the County Coliseum, bringing along with them an album's worth of new material. If you've been on Chihuahua and Overland in the past few weeks, you probably spotted this hard-to-miss promotional mural: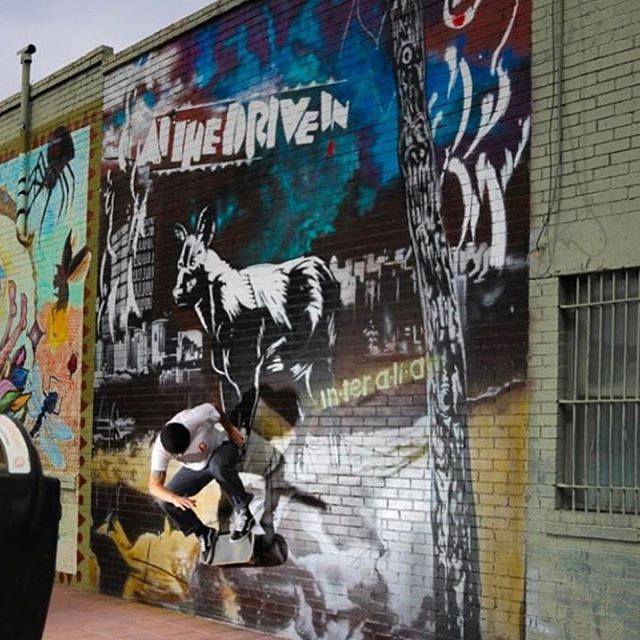 However, previously unheard tracks won't be the only change that this homecoming show will offer. Keely Davis, formerly of the now-defunct acts Engine Down and Sparta, has replaced co-founder Jim Ward on guitar and backing vocal duties. This major difference has caused a rift between fans, including the author of this scathing piece.
Founded in 1993, ATD-I is the brainchild of El Paso High alumni, Cedric Bixler-Zavala and Jim Ward. Their sound put our city on the map among the post-hardcore scenesters. It was only just before their initial split-up in 2001, at the height of their career, that they garnered world attention. The hiatus was brought on by changes of bandmate's desired direction to take the group, particularly those of Cedric and lead guitarist/backup vocalist Omar Rodriguez-Lopez. Since then, all five members went on to play in various other projects. The two main successors, the Mars Volta and Sparta, both featured former bandmates. This incestuous musical relationship carried on for over a decade, until the demise of both groups. As fate would have it, a reunion tour took place in 2012. The local date of theirs was even held at Jim's own venue, Tricky Falls.
After a four-year period of inactivity, I was surprised to see that Jim is no longer a part of the current lineup. This isn't the first time he'd departed the band. In 1996, Ward took a vacation from the group until the recording of their seminal LP, In/Casino/Out. Yet this time around, it has been reported that he had quit just days prior the 2016 tour, stating he was unaware of any reunion. Shortly thereafter, a post on At the Drive-in's Facebook page appeared:
"As our ship prepares for voyage, we announce that Jim Ward will not be joining us on future journeys. We wish him well and are excited to see you soon."
According to Bixler-Zavala in an interview with Exclaim!, "Jim just didn't want to do it at all. We just kept saying, 'We're going to [honor] that, if he doesn't want to do it, we'll let that be.'" This begs the question, is it technically still a reunion when a principal songwriter is no longer involved? Would it still be the Rolling Stones without Jagger or Richards? Keely is undoubtedly a perfect replacement, but that's beside the point. It also makes me wonder if they'll ever perform Hourglass again, the song in which Jim sings lead vocals on. Whatever the verdict may be, the current quintet pushes forward with a new album, titled in•ter a•li•a. It will be out the day of the concert. Check out their latest music video for the single "Hostage Stamps":
Tickets are available here.