El Chuqueño doesn't endorse candidates. Well, we might, if we were one hundred and ten percent sure that they were of good moral character and in the game for the right reasons.
But recently we observed some behavior from the political cronies of one of the candidates that we believe disqualifies them from public service.
Attorney Steve Fischer has taken to Facebook to demean and disrespect other candidates and their supporters in the race for District 2 City Representative. Mr. Fischer has also let it be known that he actively supports candidate Adolfo Lopez, walking with him to the doors of District 8 constituents every day.
Here are some recent comments Mr. Fischer has made on Facebook, some of which were directed at me. Mr Fischer called one of the other candidates a liar, after he said that El Paso has the highest property tax rates in Texas. I responded in kind.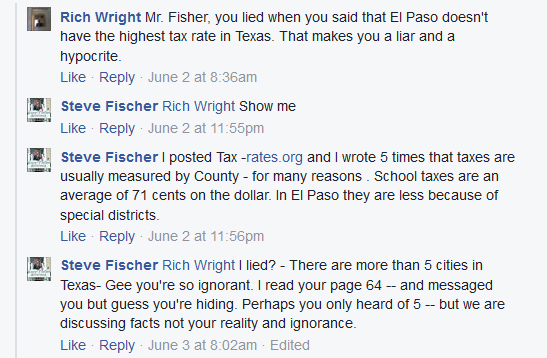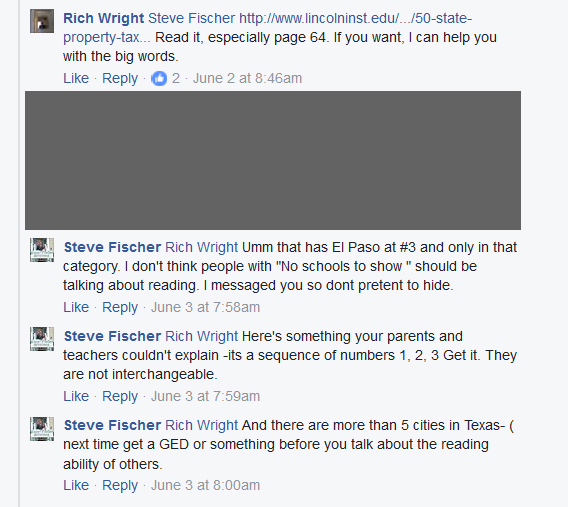 And this discussion he had with a girl who was nothing but civil with Mr. Fischer: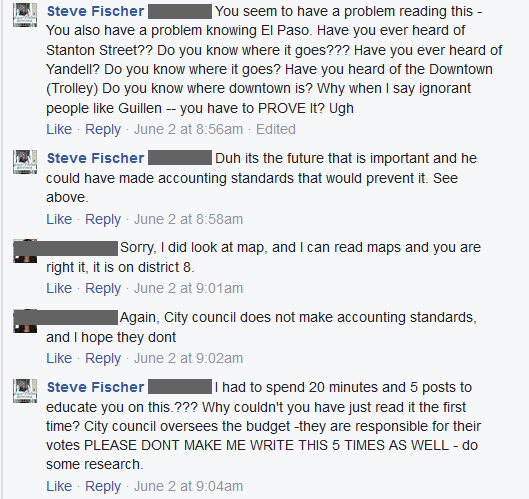 I wonder what Mr. Fischer and Mr. Lopez say about you after you close the door and they leave your porch.
If Mr. Lopez is elected, that should work out well for us the uneducated masses. I'm sure he'll do whatever he thinks is good for us whether we like it or not.
There are some qualified candidates running for District 8, and I'm not going to tell you who to vote for.  But remember, "Dime con quién andas, y te diré quién eres."
And Adolfo Lopez walks with Steve Fischer. Every day.