Here's District 3 Representative Cassandra Hernandez Brown, talking about City Council's economic development initiatives to the Texas Standard:
"You develop beautiful properties, retail properties to incentive and attract and recruit new companies to come here by providing that new atmosphere to appease to new demographics," Hernandez says.
If you unpack that curiously constructed syntax, it appears that Ms. Hernandez Brown doesn't like El Paso's existing demographic. I wonder what kind of a demographic she's hoping to appease to.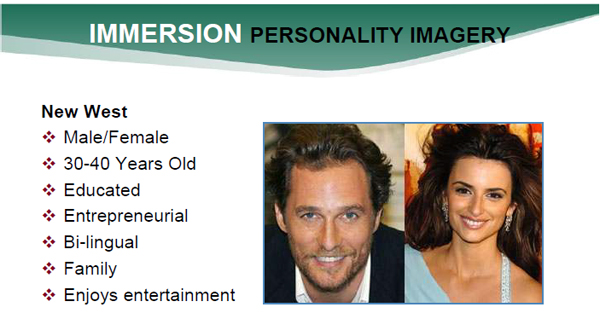 (That "Enjoys Entertainment" kills me every time. They should have put "Likes to have fun.")
Ms. Cassandra Brown has made the class war official. Now the City has owned up to the fact that it's working to attract some unspecified "demographic" at the locals' expense.
I'm not against people moving to El Paso. But people won't love El Paso because we tarted her up with ballparks and arenas and water slides, at taxpayer expense. I think that they should love El Paso for what it is. We shouldn't have to trick people into liking us.
Ms. Cassandra Hernandez Brown has another explanation for wanting El Paso to have a "new demographic".
Hernandez says right now El Paso homeowners carry the burden for property taxes – a very high 70 percent. She says the city's goal is to flip that burden to commercial properties.
This is the same excuse the City has used to justify boondoggles for fifteen years. In fifteen years, the ratio of commercial to residential tax burden has changed by about one percent.
(Our masters have a real advantage with new City Council members. They get to trot out the same old stories that have been proven lies because the new Council members don't remember them.)
The reason for our lopsided tax burden is that El Paso's two biggest industries, the military and border security, don't pay property taxes. A water slide won't change that.